Asus Zenbook UX31E
The finest Ultrabook on the market?
Visual basics
Unfortunately, it's also one of those displays that suffer from significant visual degradation depending upon your viewing angle. Push the screen back a little and it goes dark; hinge it forwards and it goes pale; turn the Zenbook side to side and the display becomes difficult to read.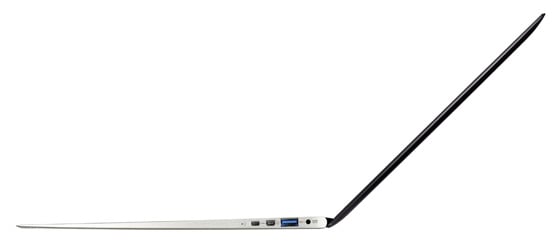 The provision of separate micro HDMI and VGA ports is a really good idea for the wandering presenter.
With the screen and my eyes in optimal position, the display looked great but this is not a computer that I'd find comfortable to share a presentation on with a huddle of people.
The keyboard is pretty good, though. Its metallic-looking keycaps do nothing for me style-wise but I enjoyed using the keyboard even though it can be difficult to read the symbols on the top row of Fn keys when the room is dimly lit. It's possible to turn Wi-Fi on and off, adjust screen brightness, switch between displays, adjust audio volume and drop into Sleep mode directly from these Fn keys.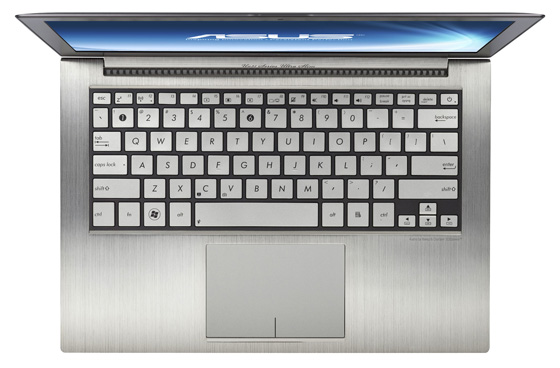 Top notch trackpad and a decent keyboard to boot
In front of the keyboard is a well-sized (roughly 10x7cm) trackpad with big, clearly defined left- and right-click areas and a perfectly smooth surface. It supports basic two-finger multitouch gestures such as for scrolling and for swiping between programs, and it supports gentle touch-taps instead of clicks without having to disable the click areas. I found the trackpad very easy to use - indeed, it was one of the best I have tried on a Windows notebook.
I have complained in the past about noisy notebooks. The Zenbook is, unless you place your ear directly against the underside, silent. Bliss. It's also a modest consumer of mains energy, sucking up around 15W on a fast recharge, 27-30W while in use and recharging at the same time, dropping to about 20W when fully charged. This perhaps helps explain why I was unable to get the Zenbook to heat up. No matter what I did, it remained steadfastly cool underneath.
Benchmark Tests
PCMark 7 Results

Longer bars are better
PCMark 7 Battery Life Results

Battery life in minutes
Longer bars are better
Clearly, one thing the Zenbook is really good at is power management. Register Hardware's insane battery life torture test squeezed 135 minutes at full blast from a 100 per cent recharge before the automatic hibernation kicked in. More realistically, in battery-saving mode, I was getting something more like four hours of continuous use before I even started thinking about looking for the mains cable.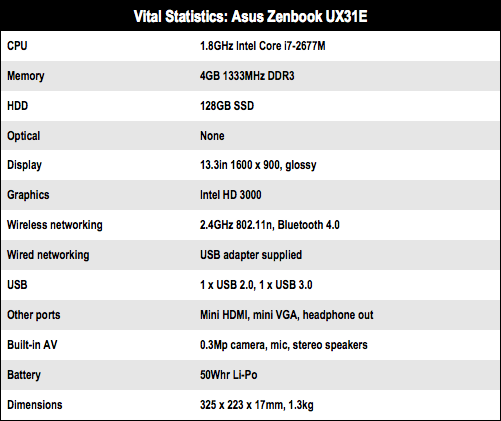 Sponsored: Minds Mastering Machines - Call for papers now open