I have you now! Top 10 Star Wars Xmas presents
From Millennium Falcon manual to USB sticks
Action figures, carbonite, Moleskines
Moleskine Notebooks
Moleskine notebooks have enjoyed a renaissance in recent years among those trying to re-capture the lost, golden area of traveling European or US writers, thinkers and artists.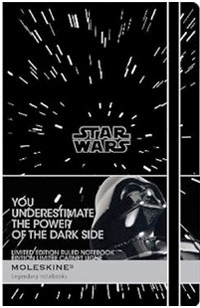 Today, tech companies have started getting in on the act, chucking out moleskines at their events, under some odd impression their words recorded in these books from a pre-digital world might carry more weight.
These pocket-sized books, however, are also a real must for that Jedi master or Sith lord in a galaxy far, far away, exploring the dusty planets of the Outer Rim, investigating a lost transmission or hunting down some Rebel scum. Whether it's jotting down his or her thoughts on how fear is the path to the Dark Side or sketching a design for the exhaust vents on that Imperial Death Star RFP, these Imperial- and Rebel-Alliance- themed notebooks are an essential back-pocket filler for any hard-thinking and slightly bookish fan of the franchise.
Yoda Christmas Tree lights
He couldn't prevent the rise of the Sith but from his self-imposed exile on the dank Dagobah, Yoda did succeed in keeping the light for the good side of The Force burning bright. It attracted Luke and changed his destiny. Now you can attract your friends and family to your Christmas tree also using the power of the force with these Yoda-themed tree lights.
Vintage action figures
Star Wars actions action figures have been through different incarnations. From the first reasonably accurate Han, Luke and Vader and cast by toy makers Kenner and Hasbro these characters developed a steroid problem in the 1990s, manifested by unfeasibly large Charles-Atlas-style pecs with huge, grippy hands in the Power of the Force range. Then came the experimental drugs, resulting in squat bodies and massive heads. Now, Hasbro is releasing "vintage" Star Wars figures that aren't just, well, actually recognisable figures but that also hark back to those first releases of the 1980s. You can also pick up the Kenner figures here. If only Hasbro would pass the "stop messing" memo to Lucas, too.
Han Solo in Carbonite Mimobot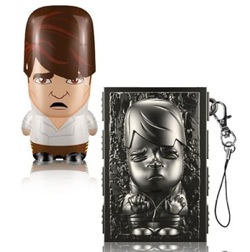 When you've got an elusive smugger who's always on the missing list, the best way to nail him down is chill his arse in some primo carbonite. Same goes for his little USB memory stick buddy.
This Han Solo Carbonite Mimobot gives you not only the rogue but also the carbonite block from Empire as a handy carry case to stop your 4GB or 8GB Han Solo storage stick getting lost. Crack open the carbonate and a defrosted Solo falls out into your warm hand. An added plus: Solo's packing a bunch of Star Wars content including wallpapers and desktop icons. ®
Sponsored: Minds Mastering Machines - Call for papers now open