I have you now! Top 10 Star Wars Xmas presents
From Millennium Falcon manual to USB sticks
Blu-rays, massive prints, Imperial Wallpaper
Star Wars Clone Wars, Season 1-3 Blu-ray
The mega Complete Saga, episodes I-VI, released in 2012 on Blu-ray will feature on the Christmas wish lists of many a box-set completist of high-def fan. This package is the first time that the complete series of films have been offered in high definition, home format with additional documentary features and previously unseen footage.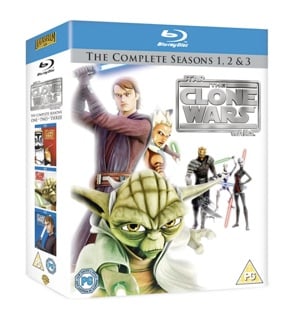 But cometh the film cometh the man, and the kind of Lucas fiddling that gave us Midichlorians in Phantom Menace and Anakin's ghost in the first remastering of Jedi continues with this blast-door stopper of a set. Once stoically silent, Darth Vader now shots "No!" while hurling his evil Imperial Sith master to his death aboard the Death Star number II. Simon Pegg said it best when he tweeted it here. The Reg therefore prefers to steer clear of the Saga this Christmas and instead recommends the Star Wars Clone Wars Season 1-3 Blu-ray set. A hip and stylish set of animated adventures set against the backdrop of one of the "prequels" to the last three, this is a thrilling and fresh exploration of the Clone Wars chapter that - shock - even manages to introduce new characters that succeed in not being annoying us. These include dark Sith femm Asajj Ventress and Anakin's eager and awkward teen Padawan Ahsoka Tano. Fret not, you also get the voices of Samuel L. Jackson as Mace Windu, Anthony Daniels as C-3PO and Christopher Lee as Dooku.
Clone Wars demonstrates you can embrace and extend the franchise without alienating the fans that helped make it. The most remarkable thing of Clone Wars? Lucas is actually onboard as executive producer. Pick Clone Wars and there's no baggage: you get to relieve that experience of watching Star Wars for the first time all over again.
Vader and Yoda nutcrackers
When he's not crushing throats and busting balls, Vader likes cracking 'em. Keep you regular they do, says Yoda. We're talking nuts, and these wooden Darth Vader and Yoda are just the thing to get you through the festive season, a time when nuts seem to become abundant. An elegant weapon for a more civilised age.
Imperial Wallpaper
The flock strikes back with this textured wallpaper featuring portraits of masked heroes of The Empire. Vader, Boba Fett, Storm troopers, Snow troopers and Imperial Guards are captured in heroic gaze and reproduced in Victorian-style monotone by Brian Flynn. The Reg suggests you grab a few rolls for the walls of your Imperial smoking room or cocktail bar.
Boba Fett Shepard Fairey giant poster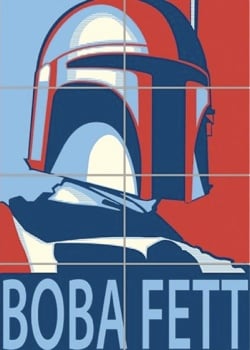 One inspired hope, the other fear and trepidation. During the US presidential election of 2008 an Associated Press photographer's head shot of then-hopeful Barack Obama was seen and stylized by graphic designer and illustrator Shepard Fairey. His work became the iconic "Hope" poster.
Bounty hunter Boba Fett's amour-plated dome has now also been given the Fairey treatment, with this eye-catching print sold by an eBay merchant known only as Maloot2 here. Eight A3 borderless prints are marshalled to form one imperious image of Fett staring out into the timeless distances of your Boho studio apartment.
The AP claimed Fairey had infringed on its copyright in his unsanctioned use of one its images. The pair settled in court. Fett will just blast you.
Sponsored: Minds Mastering Machines - Call for papers now open