OCZ wheels out lower octane SSD for Sunday drives
The only petrol that's cheap as chips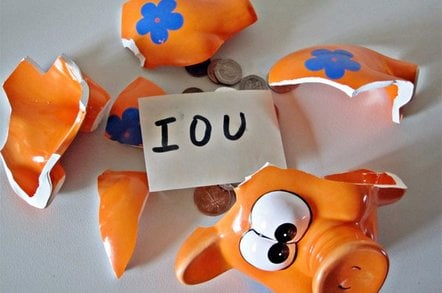 OCZ has a new SSD product and brand, Petrol, which uses cheaper asynchronous NAND than last month's Octane with its synchronous NAND.
Both Petrol and Octane are 2.5in form-factor SSDs with a 6Gbit/s SATA interface, and use OCZ's own Indilinx Everest controller. Octane flash is 25nm IMTF 2-bit synchronous NAND, whereas Petrol uses non-IMTF 2-bit asynchronous NAND. What's the difference? El Reg understands that the sync NAND's central timing circuitry makes it more complicated and more expensive than async, but is said to be faster although overall SSD design can affect any speed differential.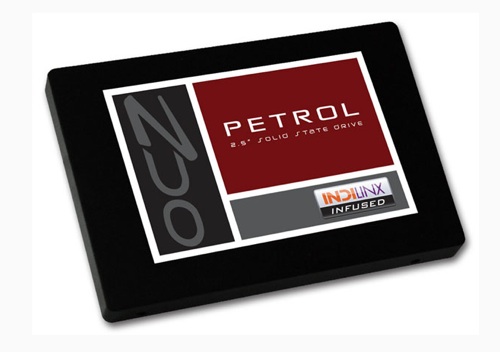 Petrol comes in 64, 128, 256, and 512GB capacity points, whereas Octane's are 128, 256, 512GB and 1TB. You get up to 45,000 random read IOPS from Octane but only 35,000 from Petrol. Octane has a sequential read bandwidth of up to 560MB/sec while Petrol maxes out at 400MB/sec. Both are said to write at up to 400MB/sec.
These numbers vary with specific capacity levels and the image (below) of an apparent Petrol spec sheet, which is circulating on the web yet is not available from the OCZ website, highlights these variations.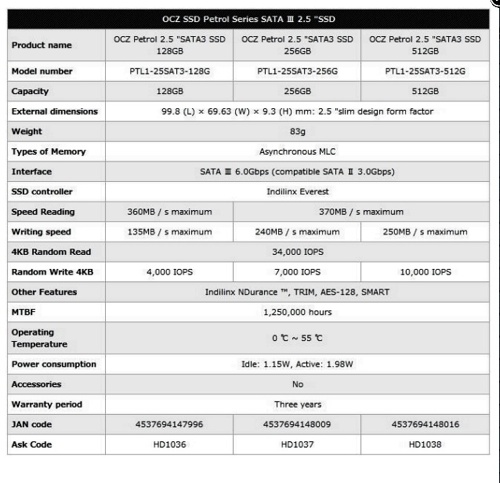 Petrol specification table
We have asked OCZ about this spec sheet but not received any reply at the time of publishing this story.
OCZ emphasises Petrol's predictable performance, provided by its NDurance technology, claiming: "Petrol ensures the most consistent and reliable performance as well as minimised performance degradation even after the drive's storage capacity is highly utilised."
Latency is said to be as low as 0.06ms. Petrol has an MTBF rating of 1.25 million hours, TRIM support, and a three-year warranty.
OCZ's branding is fun. Petrol is a lower performance version of Octane, like Agility is a lower performance version of Vertex; no, we don't understand the logic either. Other OCZ brand names include Deneva, Talos, RevoDrive, Intrepid, Synapse, VeloDrive and Z-Drive, with no consistent naming scheme apparent.
OCZ has not directly provided Petrol pricing but we understand on-the-street price tags to be around $89.99 for 64GB, $149.99 for 128GB, $339.99 for 256GB, and $649.99 for 512GB. A 128GB Octane can be had for $199.99 or so making Petrol $50 cheaper. Specific models will become shippable in the next few weeks. ®
Sponsored: Minds Mastering Machines - Call for papers now open