Enterprise flash: The good, the bad and the cloudy
Which tech will win the NAND shoot-out?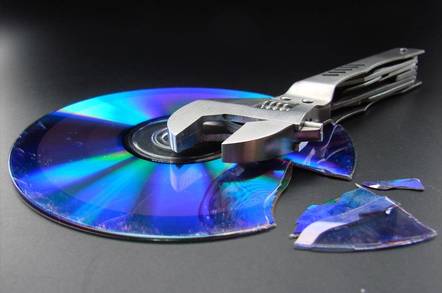 As flash tech firms face up to each other like gunslingers in a Wild West shoot-out, El Reg presents these suppliers or supplier groups developing NAND products for, hopefully, appreciative customers.
We've found higher capacity and faster flash, faster-connecting flash and, you knew it was coming, cloud flash.
NVMe
This organisation dedicated to devising a flash-PCIe connector that works at flash chip (rather than disk) speeds and has at least 90 members.
They include most of the great and the good of the flash industry: Hitachi GST, Huawei, Marvell, Micron, OCZ, Phison Electronics, Pliant (now owned by SanDisk), Samsung, SandForce (being bought by LSI), STEC, Toshiba, Violin Memory, Virident, and Western Digital. Dell, EMC, Fujitsu, NetApp, Oracle and Xyratex are also present.
The holdouts are interesting. HP and Fusion-io are not listed as members, but then they did run the SCSI Express demo at HP Discover in Vienna last month; SCSI Express being a competing and part-overlapping flash-PCIe connection initiative. Others not present or not yet present on the NVMe roster include IBM, Kaminario, Plextor, Seagate and TMS.
NVMe-supporting flash product could be generally available by mid-2013, according to a report, although SoC components could be available before then. This seems a little cautious.
OCZ
OCZ aims to give flash some TLC as well as NVMe support. Its roadmap includes introducing consumer flash products with higher capacity levels by using three-bit multi-level cell flash, known as triple layer cells (TLC). This will provide 50 per cent more capacity than a 2-bit MLC product or, it is thought, up to 30 per cent lower cost for the same capacity.
OCZ has current 960GB capacity Talos and RevoDrive products using MLC NAND. We might expect 1.44TB product next year.
The company also tells us to expect an NVMe-supporting Z-Drive R5, using IMTF 20nm NAND cells, and OCZ's own Indilinx controller technology supported by a Marvell storage processor. The NVMe functionality would be embedded in an ASIC. Reports suggest the R5 could deliver up to 3.2 million IOPS, a startling figure, considering that the current Z-Drive R4 does up to 410,000 IOPS, meaning the R5 would be almost eight times faster.
Plextor
This Japanese optical drive and flash company has announced an M3 2.5-inch SSD as a fast follow-on to its M2P Series which was introduced in October. The 24nm MLC Toshiba Toggle mode NAND-using M3 looks like the M2P with:
double the maximum capacity - up to 512GB
5-year warranty instead of 3-year warranty
525MB/sec seq read bandwidth instead of 500MB/sec
445MB/sec seq write bandwidth instead of 440MB/sec
No bundled Acronis TrueImage
El Reg thinks the increased sequential I/O speeds come from the higher capacity of 512GB vs the M2P's 256GB maximum capacity as the Marvell 88SS9174 controller chip is the same. Plextor says the M3's performance will be consistent during its working life, with no fresh-out-of-the-box spurt slowing down as soon as the drive's cells start getting re-written.
SandForce and cloud flash
SandForce, which is being bought by LSI, has developed a new controller, the SF-2481, to make flash more attractive to cloud service providers. The main event is a longer working life enable by better error checking and correction (ECC). Sandforce has also added Predictive Failure Analysis capabilities, including a new Media Health Test, to provide more reliability over the life of any SSD controlled by the SF-2481.
A Sandforce spokesperson said: "The SF-2481 has added a new ability to provide nearly 'double' the ECC protection of currently available SF-2000 series SSD Processors. If a given flash can only support up to 24 bits of ECC protection, we can nearly double that protection level so the flash will last longer (more P/E cycles)."
In more detail: "The entire line of SF-2000 products can support up to 55-bits per 512-byte sector of ECC in our processor, however each flash can only store up to so much ECC data. The SF-2481 provides the ability to store more ECC than is possible in the flash."
How long is the endurance now? "The exact endurance is based on many variables, so it is not a single number. The key point is that we provide a new capability that will enable SSD OEMs to work with cloud customers to fine tune their performance, endurance, and over provisioning to get exactly what they need for their environment."
The over-provisioning of flash is configurable by Sandforce OEMs, meaning they can optimise an SSD for longevity or for a lower cost/GB by using potential over-provisioning capacity for data storage.
The SF2481 supports up to 512GB of 25nm Intel and 24nm Toshiba MLC NAND. OEMs are sampling the controller now and January next year should see general availability.
The flash dance party is getting into full swing as more and more players step onto the floor. It's pointless to resist. Disk is like ballroom dancing; flash is streetwise, hip and hop. Get out on the tiles and strut your stuff. ®
Sponsored: Minds Mastering Machines - Call for papers now open