Vote for the year's best computing kit
Choose 2011's best consumer IT items - and the worst
Reg Hardware Awards 2011 Ladies and gentlemen, the annual Reg Hardware Awards are here and, once again, we need your help finding the best - and the worst - consumer electronics and infotech products of 2011.
This week, we're calling for your nominations for our Computing category, which gathers together our Laptop of the Year, Tablet of the Year, Broadband Service Provider of the Year and Tech Retailer of the Year awards.
And don't forget to name the product you think most deserves our Rusty Dodo award for the naffest, least necessary, most unwanted product of the year. There'll be one Rusty Dodo for each of the main categories.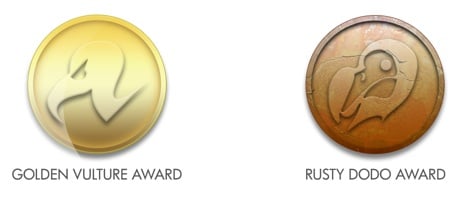 To refresh your memory, here are 2010's winners - and the worst.
Over the coming weeks, you'll have the opportunity to nominate your most lauded kit in the Gaming category:
Game of the Year
Antique Code Show All-time Classic Award
iGamer Mobile Game of the Year
Developer of the Year
Don't forget, you can still cast your votes in the Lifestyle category and the Mobile category.
Votes will be tallied during December and we'll be announcing the winners during Reg Hardware's special CES Week - seven days of total Consumer Electronics Show coverage that'll bring you news and pics of the hottest products set to hit the shelves in 2012.