2011's Best... Premium Tablets
Fondleslabs for the festive season
Xmas Gift Guide Now, we're going to annoy some of you with this one. Choosing the year's best tablet is easy. Picking one that'll appeal to the more vocal Reg readers is easy too. Selecting a different one because you think it's right is another matter, however.
But let's say from the outset: all of the five tablets that follow are ones we'd recommend. There's not a duffer here, and as long as you've decided a tablet will meet your needs, not one will let you down. Unlike one we could have added, these ones are still on sale.
You'll find our Editor's Choice product on the next page. In reverse order of rating we have...
Acer Iconia A100

The large, 9in and 10in form-factor isn't for everyone: some folk prefer a smaller tablet because it's more pocket-friendly. The Android 3.2-running Iconia A100 isn't the slimmest seven-incher around, but its curves make it seem so, and it's a fair bit lighter than most larger tabs. It's not going to challenge the iPad in the design stakes, but it's by no means unattractive. The 1024 x 600 screen is fine, and if the 8GB storage is too small, at least there's a Micro SD slot for more - and a decent array of ports.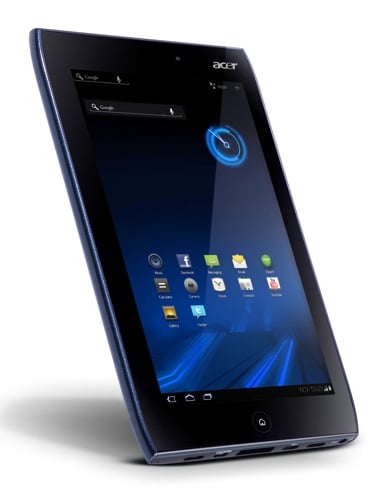 Reg Rating
80%
Price
£300
More Info
Acer
Sony Tablet S

Some tablets lacks style - yes, Eee Pad, we're thinking of you - emphasising the boxy over the curvacious, but the Sony has it in spades. It's trying too hard, perhaps, to say 'I am not an iPad', but the wedge-shaped S is certainly unique, if rather chunky. This is a tab that'll stay in the living room rather than be taken everywhere with you.
But its 9.4in, 1280 x 800 screen is excellent, the weight is good and low, Sony has added some good software, and it incorporates iTunes-class content sources. It's has a shortage of portage mind, so connectivity nuts will need to look elsewhere for full size USB and HDMI.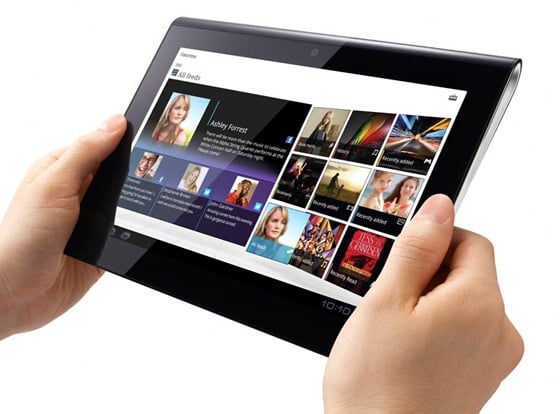 Reg Rating
85%
Price
£399-499
More Info
Sony