Carol singers rejoice at pay-by-tap credit card donations
O Come All Ye NFC Faithful
Carol singers in Covent Garden aren't taking cash donations this morning - instead they're accepting tap-to-pay credit cards, but by a lucky coincidence BarclayCard has staff handing them out nearby.
The winter warblers are from the London Community Gospel Choir, and the donated money will go to the Help a Capital Child fund, but the real purpose of the exercise is to get people used to the idea of paying by tap - even if it means giving them cards pre-loaded with a fiver. The cards can be tapped against the modified collection bucket.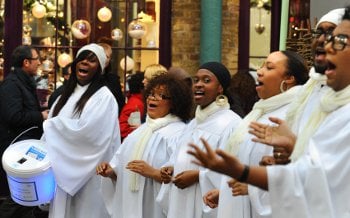 Singers expecting a different kind of Christmas card
Credit cards already have contact-less payments built in, conforming to the Near Field Communications (NFC) standard. Chip 'N PIN readers in a good many shops now support the feature (look for the word "contact-less" on the front, it's surprising how quickly it's spreading) but customers (and sometimes shopkeepers) are still reluctant to use the technology.
In the early days of supermarkets, legend has it, male models were hired to push trolleys around the place to make men feel more secure doing the same. Seeing someone else doing something makes us much more confident to do it ourselves, which is the point of BarclayCard dropping £2,500 into Help a Capital Child's coffers in £5 pre-paid cards: not only do those given the card get to try the tech, but everyone watching gets a little more comfortable with the idea.
BarclayCard obviously gains through additional transaction fees, but the shopkeepers also gain as those fees are less than the cost of handling cash. What the customer gains is less clear, one might hope lower prices will be the ultimate result, or at least fewer holes in one's trouser pockets. ®
Sponsored: Are DLP and DTP still an issue?