Judge Dredd vs Zombies
'I am the Law'
Cursed earth
Well, Dredd is pushing 60 in the comic. But with so much fighting taking place in small rooms, you often find yourself running in circles firing away while trying to avoid the zombies' clutches, especially while you're reloading. I found it just too easy to get whacked yourself in such close-quarter combat zones.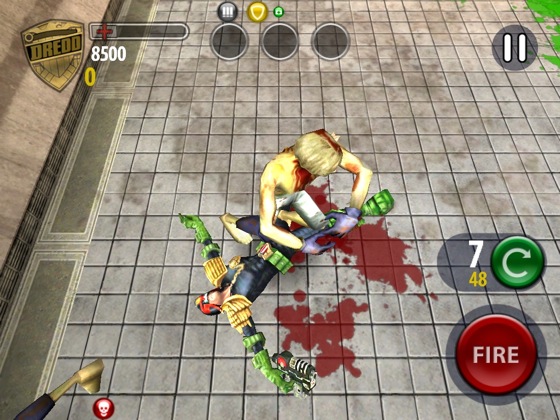 Judge dead
And these zombies don't stumble around waiting to be shot. They'll make a beeline for your brain, leaping quickly forward if you let 'em get too close. They can take several hits to put down. Some explode, releasing toxic gas, if hit - though the canny player uses these to inflict damage on the dead not on Dredd.
Forget Angry Birds then - Dredd vs Zombies' real spiritual ancestor are those turn-by-turn 'zombie isle' games in which you move step by step, luring the ever-closer undead into graves. It's a game style that would be reborn as the classic Daleks and, now, in Dredd vs Zombies, though these days the gameplay takes place in real time and in isometric 3D.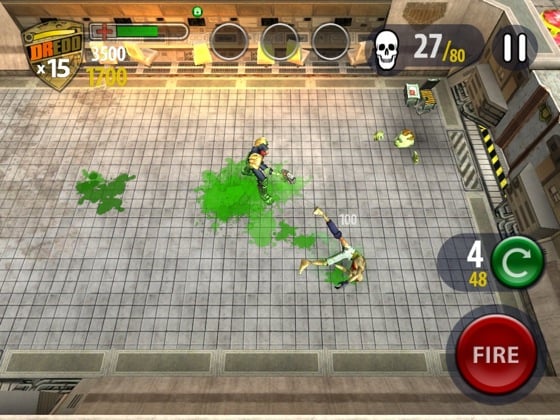 Standard execution
Dredd's world is no less basic. The groups of levels may change from a Justice Department Sector House to Mega City One's monumental chapel of rest, Resyk, via old peoples' home B. Arthur Crock Block - geddit?!?! - but you're still running around the future dystopia-standard grey corridors and rooms. They're detailed, yes, but very samey.
But you've a selection of four guns - provided you've got sufficient Credits - though no way to switch between them during a level. But Dredd vs Zombies makes up for that with a cute animation that zooms rapidly in on the last dying zombie, for a brief Pekinpah-esque 'body flies back in slo-mo' view.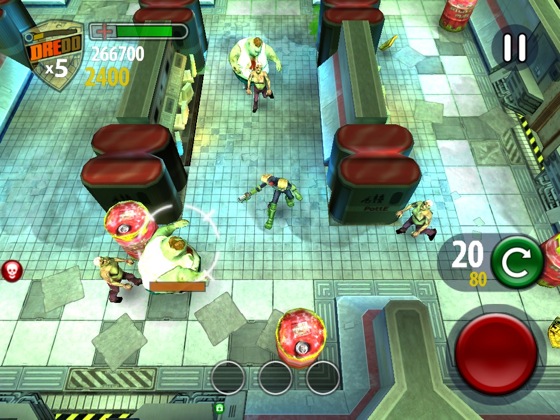 The bloat next door
And the auto-aiming system is neat, Dredd automatically selecting targets by proximity and threat level, providing he's facing the right way. But you too can tap to select targets, though in the heat of a firefight this can be tricky.
Verdict
Judge Dredd vs Zombies is a classic mobile time-waster, as compelling as Angry Birds but with a hand-eye coordination requirement that means you'll need to be a more-than-casual gamer to get the most out of it. Fans of Mega City One's finest have no excuse not to try out, and for everyone else there's the lure that all 30 levels of zombie blasting action will cost you just 69p. You'd have to be Sov or a Simp not to enjoy it. ®
More Mobile Game Reviews

Epoch
Five great
network games
for iOS
Another World
20th Anniversary
Edition
Five great
games for the
Xperia Play
Five great
iPhone
racers
Sponsored: Minds Mastering Machines - Call for papers now open

Judge Dredd vs Zombies
2000AD's famous anti-hero comes out blasting in this tricky, true-to-the-orginal third-person shooter for the iPad and iPhone.
Price:
£0.69 (credit top-ups £1.49 to £20.99 extra) RRP