Three layers, no waiting
Another major transistor bugaboo is voltage variability – and from SuVolta's point of view, taming variability is the key to lower voltages. It doesn't take a PhD chip boffin to understand that the lower the variability in a transistor's operating voltage, the lower the overall voltage supplied to a million-transistor chip needs to be to ensure that all the transistors will fire up when asked to.
Since reducing a chip's operating voltage is key to reducing its overall power consumption – along with other niceties such as intelligent power managment and the like – Shifren and the SuVolta team focused on developing a transistor that could operate at low, steady voltages and still be manufacturable in existing fabs with very little equipment modification.
One sticking point, however, was that SuVolta wanted to build a transistor that could be operated at multiple voltages. Foundries, after all, have customers with different needs – unlike Intel, which builds its own chips in its own fabs, and thus has less of a need for the ability to create chips that operate at a broad range of voltages.
What SuVolta came up with was a new way of building a transistor's channel – its pathway for current – that cut its voltage variablity nearly in half, thus allowing the overall voltage to be lowered, and that permitted the manufacturing process to create a broad range of transistors at a broad range of voltages.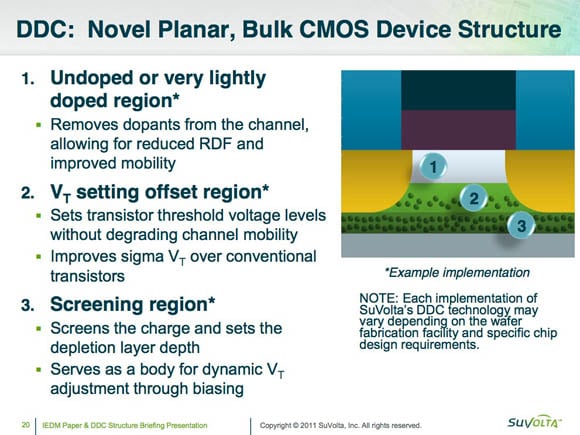 A triumvirate of layers, each with a different doping scheme (click to enlarge)
A DDC transistor's channel is a three-layer parfait. The layer in direct contact with the transistor's gate, or on-off switch, is undoped or very lightly doped silicon. The lack of dopants (impurities added to increase conductivity) in this layer avoids the dreaded volage-variability-inducing random dopant fluctuation (RDF), as well as allowing the channel to be highly depleted.
A second layer beneath the no-or-low dopant layer sets the transistor's "it's time to turn on now" threshold voltage (VT), which allows the DDC transistor to meet its objective of being fabricated with a broad range of voltage requirements. This is accomplished by adding a medium dose of dopants that control the voltage properties of the first channel.
"By changing the dose in that layer," Shifren says, "we're able to apply a potential to the channel non-locally, from underneath the channel. So instead of applying the potential in between the source and the drain, or within the channel, we actually apply it from underneath using layer number two."
Although Shifren admits that VT variations increase when the second channel cranks up the first channel to a higher VT, "it's significantly less than if we put all that dose into the [first] channel."
The third layer – which SuVolta calls the "screening region" – is more highly doped layer that terminates the depletion depth. "You don't want your depletion depth going way too deep into the device," Shifren says. A secure termination of the depletion depth assures that the DDC exhibits fully depleted behavior.
"The reason why people do FinFET or FD-SOI is to have that depleted behavior, and this allows us to have that depleted behavior," Shifren told us.
The other advantage of the third layer's termination of the depletion region brings us back to the goal of reducing VT variability. "That depletion region is going to be very uniform across the entire part, and it's this uniformity that helps us to achieve the excellent sigma VT" Shifren said, referring to DDC's low standard deviation of all of a chip's transistors' threshold voltages (σVT).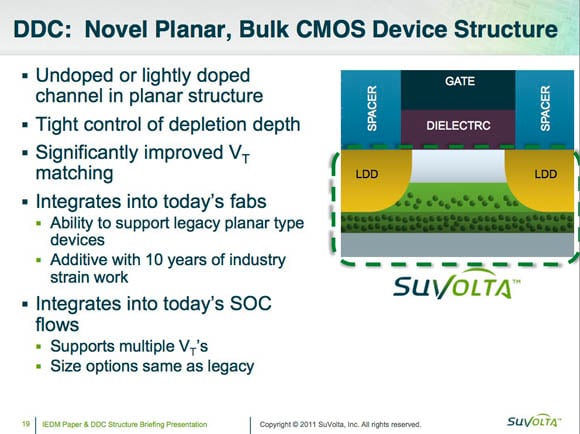 DDC: new, yet based on existing manufacturing techniques (click to enlarge)
If, by the way, all this doping, depletion, and deviation is not quite geeky enough for you, you can find a more complete explanation in SuVolta's technology brief, "Transistor VT Variation, VDD Scaling, and Leakage Power". Knock yourself out.
By now, you may very well be asking, "What's in it for me?" Fair question.
Should SuVolta's DDC transistor prove as impressive in reality as it is on paper, its 50 per cent decrease in voltage variation should enable a concomitant 30 per cent reduction in power supply voltage. Simply put, a lower power supply voltage means less power needed, less power needed means longer battery life in your mobile devices.
Also, Shifren assured us that creating DDC-transistor chips won't require expensive foundry retooling and process-flow changes, but instead minor tweaks to existing bulk planar CMOS chip-baking tools and techniques. Cheap manufacturing means cheap chips, and cheap chips means cheap consumer-electronics gadgets and gizmos
Finally, although stuffing servers with cheap chips based on DDC transistors could also help massive data centers reduce their power bills, at this point in time SuVolta is aiming at the mobile SoC market.
"The market's now moving to a point where you're really going to be driven by the $10 chip and not the $200 chip," Shifren told us, "so these fancy 3D technologies and FD-SOI products, they're going to be too expensive for where the market is going."
If SuVolta's work with Fujitsu pans out, Intel's "fancy 3D technology", tri-gate, might have a strong competitor facing it at the low end of the market – a place where Chipzilla has yet to find success. ®
BREAKTHROUGH: Feisty startup slashes chip power by 50%
COMMENTS
Yes and no
If Intel tweaks existing equipment and it is low cost, then others can easily license it and do the same. Others might also find ways to further refine it. If Intel finds an entirely new method that is cost prohibitive for the others, then licensing it is not likely. This gives Intel a competitive advantage. They will do anything to keep it which has been proven by their practices.
Intel didn't invent the Tri-gate/Fin-FET/3D Transistor
AMD were talking about it first[1]. Intel only started claiming credit for an identical technology advancement (Tri-Gate) a good 4+ years later and - like AMD - are yet to come to market with a product using 3D transistors.
It's interesting how everyone is giving the credit to Intel for something that was clearly developed (or at the very least, theorised) elsewhere. I'm sure it's not the first - or last time - that will happen.
And much of the advances Intel make in their manufacturing process are only necessary because of the crap design of their IA architecture. Whether this startup is right or wrong, it's beyond doubt that Intel have made many mistakes in the past and still live with the cost of most of them today.
1. http://www.xbitlabs.com/news/other/display/20030918140333.html
Subtle & sneaky
It's kind of weird, you'd have thought Intel, with it''s *huge* investment in chip fabs, would be looking for exactly this type of approach (clever tweaks of the *existing* tools and processes it uses) to give those improvements.
Instead the start-up using what appears to be a *deeper* understanding of what is going on has achieved this leverage.
I'd guess someone has been caning their HPC hardware to run the sims that worked out the theory in detail.
Thumbs up for this, with the proviso that it has to be translated into *products* first.
Intel are the incumbents
and it is in their interests to support the status quo - protects the license revenue as Lance says and maximises the returns on investments already made. It is up to new entrants to be disruptive (and take more of the risks); this is not just complacency on Intel's part - their resources are huge but not infinite and they cannot do everything. Intel's business practices often limit the reach of their technical prowess (marketing trumps engineering) - look at ARM's continued dominance of the low-power space (Intel was an ARM licensee but dropped out and gave that business away) and also Intel's marketing boys hobbling the Atom chip.
Marketing also dictates a "black and white" approach - something has to win and all the alternatives must lose so Intel try to pick the winner (e.g. FinFET) and have to back it. From that point, everything else has to be inferior or the powerpoint slides don't stack up.
Microsoft is a direct and obvious comparison - although Intel has far greater research chops than they do; MS will defend the PC (and Windows and .Net) to the death and are frantically playing catch-up with on mulitple fronts (Metro UI, Bing, Win on ARM, ...).
Power consumption is a big issue and this new lot will do well from noticing that. I hope.
Intel leading?
"If you look at the industry as a whole right now, who really defines the technology and the technology roadmap?" Shifren asked, rhetorically. "It's Intel."
...in what universe?
Shifren seems to be mixing his apples and his oranges here. His process is intended for SoC fabrication, so why is he comparing it with power hungry PC chip processes? Saying that Intel leads the tech road map is a very general statement and wholly untrue when it comes to chips in the low power SoC category. They have been trying for years to come up with anything that could go head to head with an ARM and failed thus far, so how is it that they define the tech road map?