Artists craft the ultimate iPhone fanboi holiday gift
Meet the $800, gold-plated shofar
Apparently inspired by the alpenhorn and shofar, an Italian design firm has created the ultimate in glitzy, ritzy sound support for the iPhone: the Megaphone.
Just in time for holiday shopping, en&is, founded by Enrico Bosa and Isabella Lovero of Milan, has married the simplicity of passive audio amplification with the shiny-shiny conspicuous consumptiveness of the most stylistian fanboi.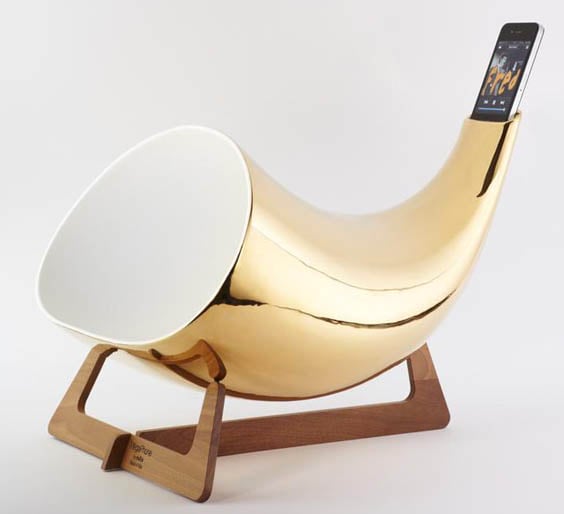 A marriage of cutting-edge technology, old-world craftsmanship, and crass materialism
This ceramic oggetto d'arte isn't for members of the great unwashed – the 99 per cent, as it were. Should you choose to grace your molto moderna living space with a Megaphone, it'll run you €399 ($535) for a black or white amplificatore passivo, or €599 ($800) for one in in gold – which, by the way, is "applied with a brush by highly trained and skilled decorators," then fired at 720°C (1,328°F), fully justifying its premium price.
The Megaphone is isolated from the surface upon which it is placed by a wooden frame, and is operated by simply placing your iPhone – or iPod touch, in a case – into its open-ended aperture.
To our ears – at least when listening to it perform in an en&is video – the Megaphone is not for the audiophile, though it does produce a somewhat retro, gramaphonesque sound spectrum:
However, as with a well-behaved child, this handcrafted ostentation is meant to be seen, and not heard. ®
A tip of the hat to the ever-entertaining Geeks are Sexy for bringing the Megaphone to our attention
Sponsored: Minds Mastering Machines - Call for papers now open