Motorola Xoom 2 10in Android tablet
Creaky tweaky?
Insufficient upgrade?
File transfer is handled solely through the MTP protocol so anyone with a Mac or Linux box is up a gumtree. To snag the relevant Windows drivers, you have to install the MotoCast file manager and media streaming suite but once you've done that you can at least transfer content over a Wi-Fi network and sync your iTunes playlists.
On the subject of music, the Xoom 2 has a very fine pair of speakers built into the upper rear of the device where they are safe from being covered by your hands while holding it in landscape orientation.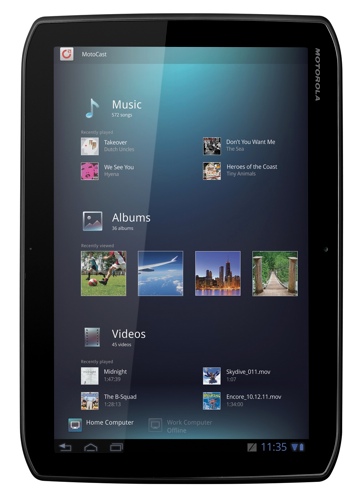 MotoCast can stream PC-stored content over Wi-Fi and the Net
MotoCast aside, the only other piece of built-in software is something called Floating Notes which let's you call up a notepad by touching an icon locked into the system bar. It's a nice idea but without a stylus writing a note is far very from easy and you can't use the keyboard.
I'm guessing that the 5Mp main cameras has been yanked from the old Xoom parts bin because it's equally mediocre. Like most Android tablets, the Xoom 2 isn't certified to make Skype video calls but I was still rather surprised to find that the 1.3Mp webcam couldn't manage them anyway.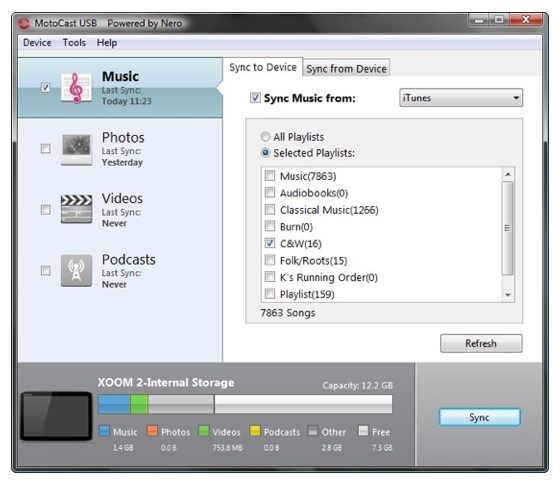 Under Windows, MotoCast will sync with iTunes libraries
Technical details of the Xoom 2's battery are a bit thin on the ground, but whatever the capacity it's at least as good a performer as the first-generation machine, which it one of the top Honeycomb tablets when it comes to battery life.
During my test I found myself re-charging every other day but then I leave the Wi-Fi on continually and like a bright screen. A full charge didn't quite get me through all three Extended Edition Lord of the Rings films but at just past the eight-hour mark I was well on the road to Mordor before the lights went out.
At the time of writing, there's still no official word on the price of the Xoom 2 but I'm betting it will be close to the £400 mark or, to put it another way, £70 more than you can now get the 32GB Xoom Mk.1 for. That is a lot extra for a machine that albeit lighter and slimmer is only faster on paper and lacks storage expansion.
Verdict
The Xoom 2 is a decent enough machine that looks great and feels good in the hand, but it's no major leap forward from the original Xoom. The extra 200MHz of chip speed has little measurable impact on performance. And with Tegra 3-based offerings out early next year, Motorola is going to have to price the Xoom 2 very competitively. ®
More Tablet Reviews

Samsung
Galaxy Note
Amazon
Kindle Fire
Asus
Eee Pad
Slider
Sony Tablet S
Ten high-end
Android tablets
Sponsored: Minds Mastering Machines - Call for papers now open

Motorola Xoom 2 10in Android tablet
A lighter and slimmer version of Motorola's first tablet that doesn't quite offer enough of an improvement to justify the price.