Motorola Xoom 2 10in Android tablet
Creaky tweaky?
Slightly quicker
On a more positive note, the Xoom 2's micro USB port doubles up as both the sync and charge port, and the device charges when connected to a PC over USB.
Motorola claims the Xoom 2's 1280 x 800 LCD panel has been improved but gives no technical details as to how. Not having both side by side, it's a claim that is hard for me to quantify but I can tell you that there's nothing wrong with the new screen. Despite lacking any trick IPS technology the viewing angles are impressive, there's little if any backlight bleed, and it's bright, crisp and colourful.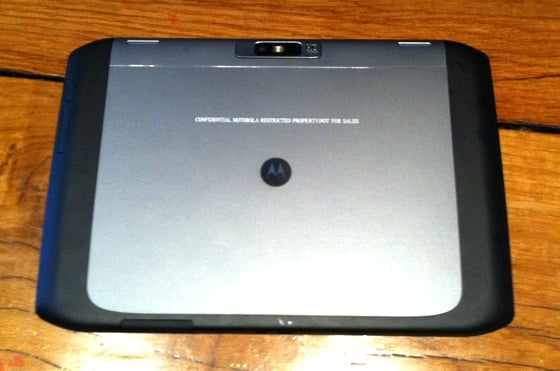 The 5Mp rear-facing camera is nothing special
Under the hood there's little difference between the old and the new so you get 1GB of Ram and a dual-core Nvidia Tegra 2 chip. The Xoom 2's CPU is clocked at 1.2GHz, up from 1GHz before, but the extra speed has little if any discernible impact.
The AnTuTu benchmark app returned a score of 5666 which bears out Motorola's claim that there's a 20 per cent improvement - well, the CPU's clock speed is 20 per cent higher - but the Xoom 2 doesn't really feel any faster and still struggles to play 1080p video in any other format than MP4, just like the 1GHz Xoom.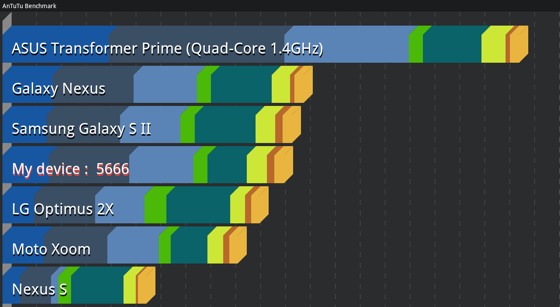 While the original Xoom came with a Micro SD card slot that didn't work until an update arrived, the Xoom 2 doesn't even have a slot so you are stuck with the built-in 16GB, or 12 and a bit after the system's taken its share.
Actually, that bit about no slot isn't strictly true. Next to the HDMI and USB ports is a flap concealing two blocked slots. From the shape and size I'd guess they were intended for Micro SD and SIM cards.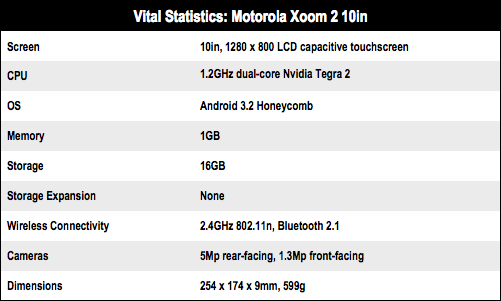 Sponsored: Minds Mastering Machines - Call for papers now open