Carry one device not two
Other than the stylus bay, the smooth exterior is only interrupted by a micro USB slot at the bottom, a 3.5mm audio jack on the top, and power and volume buttons on the right and left side, respectively. There's no HDMI, but if you have the right cables then the micro USB port supports Mobile High-Definition Link as well as USB On-The-Go.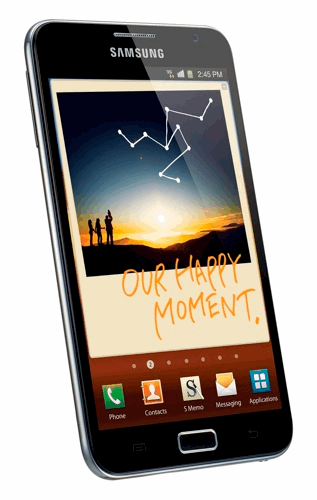 The main camera shoots at 8Mp and does a decent job of it while the forward-facing webcam tops out at 2Mp and supports Skype video calling. Video can be recorded up to 1080p and 30f/s with the main camera but not at all through the webcam.
As a phone the Note performs well, Dom Joly appearance aside. There's a good active noise cancellation system so people can hear what you're saying, and the speaker is clear and loud so you can hear them.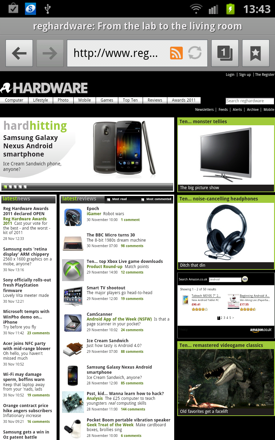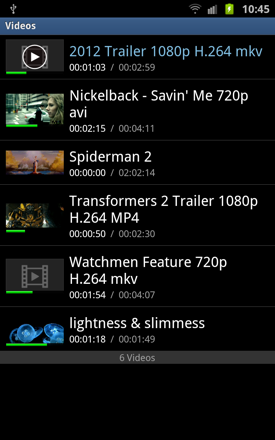 The big screen is great for browsing (left), and the Note will play HD video with ease (right)
Unclip the back and as well as the Sim and Micro SD card slots, you will find a removable 2500mAh battery which gives the Note a decent runtime on a full charge. Unless you cane it relentlessly, 48 hours of activity is easily achievable.
The fly in this so far excellent ointment is the cost. The buy the Note unlocked and Sim-free, you're looking at the thick end of £600, which is, to say the least, a lot.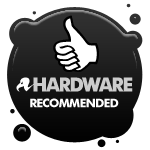 Or is it? The argument could be made that you're getting a device that will do everything a 7in tablet like the Acer Iconia A100 and a really good smartphone like the Razr can do and those two together will set you back around £700.
Verdict
For a mobile phone, the Note has a big old footprint but it's reasonably slim and not excessively heavy. It does everything you would expect of a high-end Android handset, but when it comes to all the other stuff we use our smartphones for, it leaves the competition for dead thanks to that huge, high resolution screen and the lightning-fast chip. ®
Thanks to Clove for the review sample

Samsung Galaxy Note
The ultimate mobile device for anyone who doesn't want to carry a phone and a tablet.
COMMENTS
@whatever.....
You sir are a twat and a troll.
Have a nice day :)
Couldn't wait for this review...
...as much as I trust El Reg, I just went with my gut and got one of these for £36pm on Voda about a week and a half ago.
It's incredible.
I admit, some of my excitement is due to coming from a borked Symbian handset (SE Satio U1, anyone? Sigh... ordered before Android 'took off' in a big way). Having had to deal with other people's Blackberry handsets and iPhones and associated tat at work and not been impressed, I had a quick fondle with the Sony Arc S and thought that Android was for me and for a time, I ever considered not dumping Sony Ericsson as my handset of choice for the first time since the Razr V3 days.
It was the lack of decent video file handling that put me off the Arc a little, just enough that when I read the Galaxy SII reviews I thought that in a toss up between those two, the Samsung might just nick it.
Then the Note appeared on the horizon - all that great SII spec plus lovely screen real estate, a stylus (which keeps my greasy fingers off the screen) and a bit of extra oomph under the bonnet.
It is everything I hoped and then some - so far, I've already played back 1080p blu-ray standard video without a hic-up, controlled my desktop PC via a VNC app, Swyped entire blog posts, integrated my facebook, google and old phone contacts via bluetooth in about two minutes flat... Android is such a joy for customising and doing things the way you want, not the way an OS tells you to.
I've stupidly shaped legs... big thighs I inherited from my mother. I tell you this so that you can be happy in the knowledge that this sits in my trouser pocket more happily than even my lil K800i used to; it's so thin and curvy that the size, X & Y axis, is not an issue when holding or putting away and it's just such a boon in use... well, I've not used my netbook since I got it, put it that way.
Battery life is smashing - yeah, I was worried on day 1 when it fell to 30%... and then I realised I'd been sat on wifi for about 4 hours streaming iPlayer and pulling files across my DLNA network with the screen on almost full whack with bluetooth headphones and GPS silliness on - once you've gotten to know it (with the simple toggles for all your battery drainers) you'll get a full day out of it easy and nearer two if you don't use it instead of your laptop... but you will! It's that awesome. Micro USB charging means easy top ups though and well, it's just wonderful.
If you think you'd like this kind of device, but are just holding back because you're just not sure but don't really know why, hold back no more - El Reg hath spoken and I concur - the Note is awesome! iPhone? Pffft...
48 hours
according to a recent article by award winning, UK based publication The Register.
At last, the perfect sized screen.
The first smartphone I've had that actually fits me. My hands are not exceptionally large (I''m 6'3" in height) but at last a phone I can use the onscreen keyboard and my thumb can access all the icons on the screen. Expensive yes, but I've no regrets yet..everything works and works well.
amazon.de, just log in with your normal amazon.co.uk account, use google translate through chrome.
I ordered mine from there, £461 including shipping, arrived in 2 days. Bargain!
No clue why blighty is being price jacked so much these days on hardware, its offensive.