Samsung Galaxy Note
Wee tablet, big phone? No, the ideal in-betweener
Review With Android tablets starting at seven inches and phones now reaching just under five, something was bound to come along to occupy what little middle ground remains and blur the distinction between phone and tablet irrecoverably. That something is the Galaxy Note.
The Note is a fair bit taller and wider than your average mobile, but it's not much thicker. In fact, it's only seven-tenths of a millimetre thicker that an iPhone 4S. At 178g it's noticeably heavier than the Motorola Razr but it only gives away 14g to my HTC Desire HD.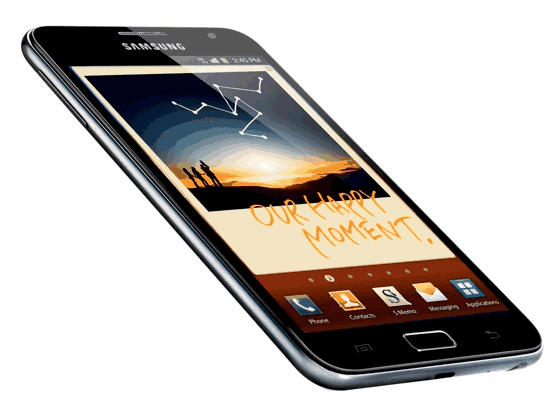 Hybrid: phone, meet tablet
This means that holding the Note single-handed is not an issue but using it so can be. No matter which hand you pick it up with, your thumb won't give you full coverage. So some judicious placing of shortcuts and re-ordering of dock icons will be in order.
The Note's killer feature is its screen. At 5.3in, the display is bigger than that of any other phone and, at 800 x 1280, it has more pixels too. The pixels-per-inch count of 285 doesn't quite match the iPhone 4S' 330ppi or the Samsung Galaxy Nexus' 316ppi, but lay the three side-by-side and there's not much in it to the naked eye.

Barely thicker than a regular phone
The words 'Samsung', 'Super' and 'AMOLED' are quickly becoming synonymous with display excellence, and that is certainly the case here. 'Bold', 'vibrant', 'sharp', 'crisp', 'saturated' - all these words can be used to describe the Note's display, but I'll stick to 'excellent' because that's what it is.
As with the HTC Flyer 7in tablet, all my preferred apps and widgets designed for phones with lower-resolution screens worked a treat on the Note. In fact, the only difference is that the screen is ranged 5 x 5 rather than 4 x 4, but that's no bad thing because it leaves room for more stuff.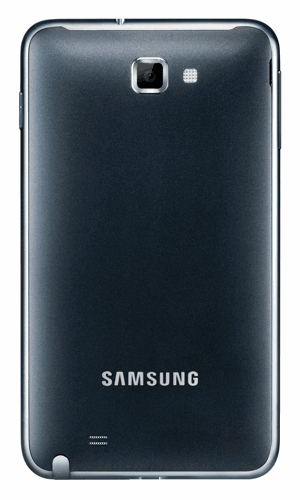 The 8Mp camera on the back is none too shabby
The Note runs Android 2.3.6 Gingerbread with Samsung's generally inoffensive TouchWiz overlay. Until the arrival of an Ice Cream Sandwich update, Android isn't optimised to make full use of the Note's dual-core 1.4GHz processor but it still goes like the clappers, helped by a full gigabyte of Ram.
COMMENTS
@whatever.....
You sir are a twat and a troll.
Have a nice day :)
Couldn't wait for this review...
...as much as I trust El Reg, I just went with my gut and got one of these for £36pm on Voda about a week and a half ago.
It's incredible.
I admit, some of my excitement is due to coming from a borked Symbian handset (SE Satio U1, anyone? Sigh... ordered before Android 'took off' in a big way). Having had to deal with other people's Blackberry handsets and iPhones and associated tat at work and not been impressed, I had a quick fondle with the Sony Arc S and thought that Android was for me and for a time, I ever considered not dumping Sony Ericsson as my handset of choice for the first time since the Razr V3 days.
It was the lack of decent video file handling that put me off the Arc a little, just enough that when I read the Galaxy SII reviews I thought that in a toss up between those two, the Samsung might just nick it.
Then the Note appeared on the horizon - all that great SII spec plus lovely screen real estate, a stylus (which keeps my greasy fingers off the screen) and a bit of extra oomph under the bonnet.
It is everything I hoped and then some - so far, I've already played back 1080p blu-ray standard video without a hic-up, controlled my desktop PC via a VNC app, Swyped entire blog posts, integrated my facebook, google and old phone contacts via bluetooth in about two minutes flat... Android is such a joy for customising and doing things the way you want, not the way an OS tells you to.
I've stupidly shaped legs... big thighs I inherited from my mother. I tell you this so that you can be happy in the knowledge that this sits in my trouser pocket more happily than even my lil K800i used to; it's so thin and curvy that the size, X & Y axis, is not an issue when holding or putting away and it's just such a boon in use... well, I've not used my netbook since I got it, put it that way.
Battery life is smashing - yeah, I was worried on day 1 when it fell to 30%... and then I realised I'd been sat on wifi for about 4 hours streaming iPlayer and pulling files across my DLNA network with the screen on almost full whack with bluetooth headphones and GPS silliness on - once you've gotten to know it (with the simple toggles for all your battery drainers) you'll get a full day out of it easy and nearer two if you don't use it instead of your laptop... but you will! It's that awesome. Micro USB charging means easy top ups though and well, it's just wonderful.
If you think you'd like this kind of device, but are just holding back because you're just not sure but don't really know why, hold back no more - El Reg hath spoken and I concur - the Note is awesome! iPhone? Pffft...
48 hours
according to a recent article by award winning, UK based publication The Register.
At last, the perfect sized screen.
The first smartphone I've had that actually fits me. My hands are not exceptionally large (I''m 6'3" in height) but at last a phone I can use the onscreen keyboard and my thumb can access all the icons on the screen. Expensive yes, but I've no regrets yet..everything works and works well.
amazon.de, just log in with your normal amazon.co.uk account, use google translate through chrome.
I ordered mine from there, £461 including shipping, arrived in 2 days. Bargain!
No clue why blighty is being price jacked so much these days on hardware, its offensive.