Apple files avatar automation, emotion patents
Choose your preferred facial expression for 'FOAD'
Apple has applied for a pair of patents that describe creating digital avatars based on photos of a user's face, and then embuing those avatars with changeable elements that users can choose to express different emotions.
The filings say that the resulting avatars could be used "in various applications, including but not limited to gaming, social networking, and video conferencing."
Apple offers all three services, with varying degrees of user adoption: its iOS-based Game Center "social gaming network", its less-than-successful Ping "social network for music" available in iTunes, and its OS X iChat text, audio, and video messaging app, which is not available for iOS – yet.
The first patent application, entitled "Automatic Avatar Creation", describes the use of genetic algorithms that take information from a user's photo and use their facial features to narrow a library of existing 3D avatars down to a group from which users can select the one that they prefer.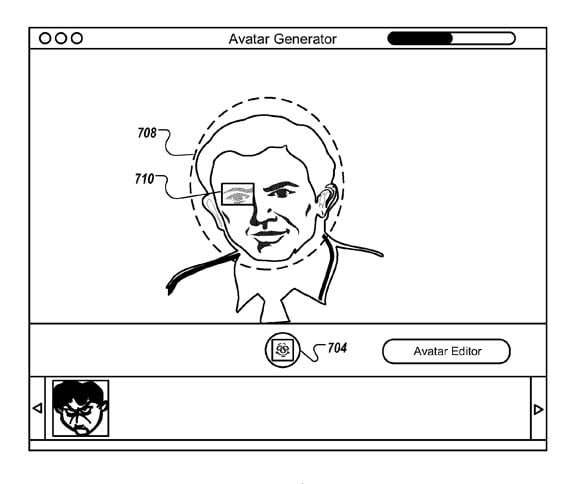 Want blue eyes, not brown? No problem
The filing also describes an editor that allows the user to customize the chosen avatar, modifying lighting, coloring, and "hair, nose, eyes, mouth, ears, glasses, mustache, etc."
The second filing, "Avatars Reflecting User States", describes a system in which a user can predetermine a set of emotional-state indicators, including "facial expression, body language, accessories, clothing items, and/or a presentation scheme."
The system described includes an editor in which the user could modify their avatar's "face, skin tone, eyes, nose, hair, shirt, hat, background, etc." and identify them as representing a particular emotional state.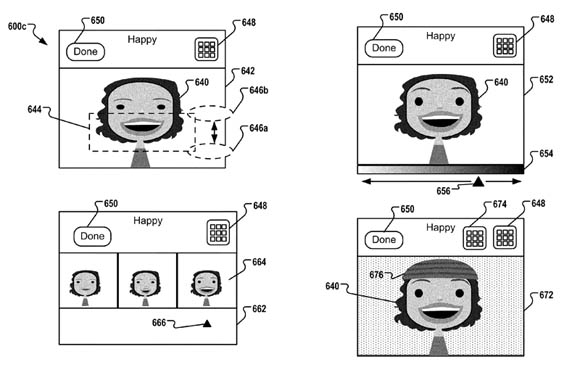 Want to express happiness? Then give a big smile and put on a hat
The user's avatar could then be triggered either directly by the user, or automatically when the user types an emoticon or a predetermined text string.
Typing "LOL", for example, could give an avatar a smile, while "FOAD" could narrow the avatar's brows and replace that smile with a frown – or, for that matter, if the user typed FOAD in jest, he or she could choose to keep the smile in place.
"When users are allowed to create and use avatar instances having individualized expressions and/or body language for each user state," the filing notes, "the users can enjoy more creativity and fun in the self-expression and the interactions with other users."
As pointed out by AppleInsider, these two patents join two other avatar-related patent filings published this October – "Avatar Editing Environment" and "Personalizing Color of User Interfaces" – which demonstrate Apple's attempts to personalize the experience of using Game Center, Ping, iChat, or any other future attempts at enlivening online social interactions that it might be contemplating.
As to whether those efforts will result in "more creativity and fun", however, is most definitely a matter of personal taste. ®
Sponsored: Minds Mastering Machines - Call for papers now open