Chinese state research unit pays $1,000 for USB stick
128MB, HP-branded, none of your cheap rubbish
Trouble-making Chinese paper the Southern Metropolis Daily has turned up an invoice showing that the Chinese Academy of Sciences is paying more than $1,000 for 128MB memory sticks.
The price is about nine times what one might expect, and when the paper questioned HP they were told that the unit should cost around $47 but that an exact replacement (recommended for use with an HP printer) could cost as much as $100 – that being the most expensive stick the company sells.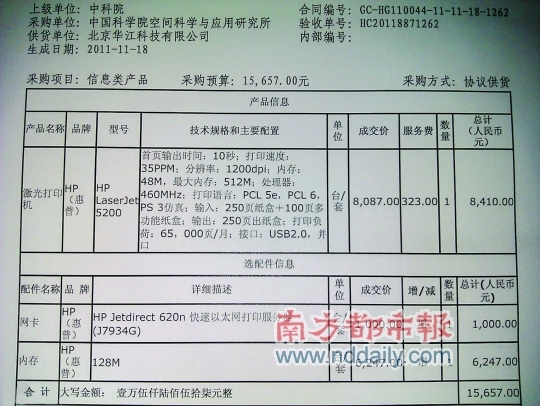 The invoice was posted by the Southern Metropolis Daily, and reproduced by Penn Olson
Defending the price paid, a rep from the Chinese Academy of Sciences told reporters that the sticks had to be approved and purchased centrally, and pointed out that the prices paid were on a public website, though when the paper's researcher tried to find the site, access was restricted to those with a government ID.
As the story gained ground locally, the academy struggled to explain that it was adding a sharing capability to the printer, and that it just hadn't looked closely at the contract which was now under review – so it was incompetence, rather than corruption, which led to the unreasonable pricing.
But the publicity is prompting discussions about how open public bodies in China should be with their spending, as reported in a poorly-translated piece on Network in China, with greater transparency being posited as a solution.
$1,000 for a 128MB memory stick might seem a little steep, but it's a bargain when compared to the $200,000 the US Government paid for a mobile weather app which doesn't work, and the Chinese can probably better afford it too. ®
Sponsored: Minds Mastering Machines - Call for papers now open