Man uses CAT scanner to copy Stradivarius
CAD, CNC kit used to knock out wood
Attempts to recreate the renowned Stradivarius violin continued this week with boffins proposing an all-new approach using CAT scans and CAD software.
After studying the anatomy of several instruments using a computerised axial tomography (CAT) scanner, Mora, Minnesota-based radiologist Steven Sirr managed to get hold of a Stradivarius, borrowed from the US Library of Congress, to scan.
Along with two instrument makers, Sirr set about creating replicas of Antonio Stradivari's highly-sought violins.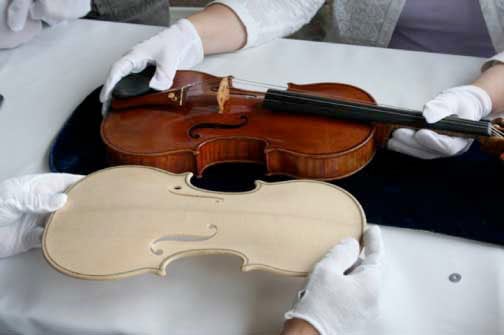 More than 1000 CAT scans were taken of the instrument, all of which were analysed and converted into 3D computer-aided design (CAD) models.
These were then fed into a CNC machine, which was used to carve the various body pieces from different woods, picked to match the density of the original.
The team has so far assembled and varnished three full replicas, which members say sound "amazingly similar to originals in their sound quality".
Their findings were presented to the Radiological Society of North America. You can read more about the process there.
With some Stradivarius violins fetching over £10m in auction houses, the search for a cheaper, yet equally impressive alternative has been a Holy Grail quest for instrument manufacturers and classical music buffs.
A few years ago, a retired university professor claimed to have successfully reverse-engineered a Stradivarius by burning wood samples and analysing the the smoke. ®
COMMENTS
I've got a Stradivarius and a Rembrandt...
... trouble is Rembrandt made lousy violins and Stradivarius was a terrible painter.
- Tommy Cooper - RIP
Not so much
Many classical musicians can tell a Strad or Guarneri just from hearing the sound. That said, a great player can make a mediocre fiddle sound pretty good, and a bad player can make a Strad sound like a Chinese student violin. So, interesting study, but until we have the verdict of some real violin experts, rather than the violin's makers and a bunch of radiographers, the case remains unproven. After all, part of the Strad recipe may well be, 'make great violin, then play it daily for 300 years'. Thankfully, Strads do tend to end up with players rather than locked in Russian billionaires' vaults.
What's the difference between a violin and a trampoline?
You have to take off your shoes before you jump on the trampoline.
But seriously, I would think a true audiophile would not only be able to tell the difference between a Stradivarius & a Yamaha, he (they always are 'he') would also be able to tell you what side the player parted their hair that morning - as long as he heard it over oxygen-free copper suspended by monopolar magnetic fields generated by raw ironstone dug by monks from the the Himilayas, through speakers of pure chinese silk spun by virgins, in platinum-plated osmium enclosures. You can hear the difference, you know!
Cazzo Enorme
Believe it or not not all CT machines are found in hospitals.
Mystique
Yo-Yo Ma was given a rare Stad cello and, although officially revering it, he doesn't play it, because the sound is not that good. Everything decays. Some Strads are like the old story of the knife: same knife I had when I was a boy. Of course, the handle's been replaced a couple of time, ditto the blade...
Some modern virtuosi are shrugging off the cult fo the Strad. Christian Tetzlaff, for instance, did his own sound test (listened to some) and put aside his Strad for a modern violin.
It takes craft, knowledge of sound and materials, and experience to make a good violin, and I am sorry that modrn luthiers are so overshadowed by instruments that were brilliant in the 19th century, but are now either dying or composites so far from the original that they are almost fakes.
To my fellow posters who hate the sound of a violin: have you ever heard a top violinist playing one of the great violin concertos live? If not, then you have missed one of life's greatest treasures.