Evolution of the line
With all that tech, it was no surprise the Model B was so expensive. Equally, to geeks, the technology's absence from the cheaper Model A made that a far less desirable purchase. Not that the Model A was unpopular. In 1981, the Department of Industry had decided it would subsidise half of the price for each Model A Britain's schools purchased. Unsurprisingly, many of them took up the DoI's offer.
Acorn had planned to produce 3000 machines in January 1982, but a flaw in the hi-res graphics chip discovered once production was underway ensured far fewer of these parts were available to build into the machines than expected, setting the manufacturing process back. By the time The Computer Programme was broadcast, only a few hundred BBC Micros had shipped.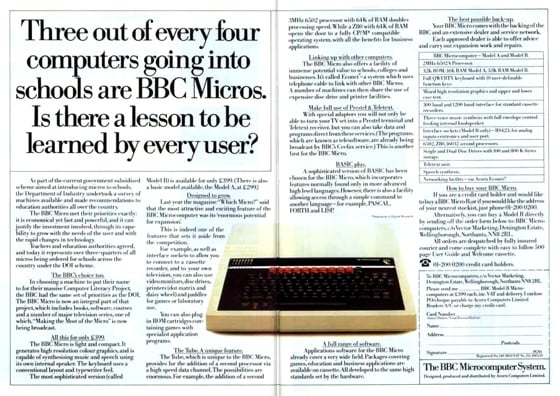 Playing the education card: Acorn engages with parents
Source: Wikipedia
By the end of the January, 1000 BBC Micros had been produced. Some 2500 more rolled off Acorn's production lines during February, followed by 5000 more in March. But by the end of April the order backlog stood at 20,000 units. Production continued to be ramped up, and Acorn was able to report in October 1982 that the backlog had been almost eliminated. New orders were being dispatched in a matter of weeks rather than months.
That same month, the DoI extended its offer to the more popular, but more expensive Model B, an offer taken up be educational establishments with relish. By Christmas 1982, more than 67,000 BBC Micros had shipped. Acorn went from a company with a turnover of less than £1m in 1979-80 to revenues of more than £20m within two years. That paved the way for Acorn's September 1983 flotation on London's Unlisted Securities Market, a process that made Chris Curry and Herman Hauser millionaires.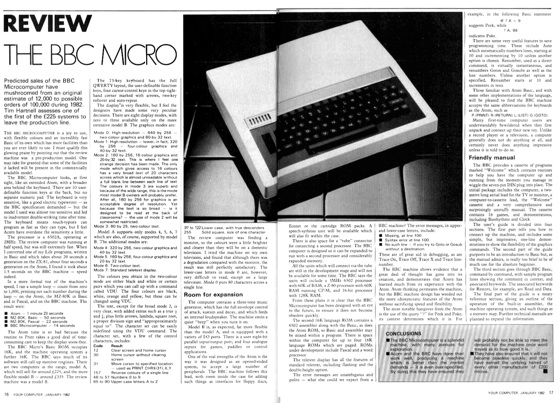 Thumbs up: Your Computer magazine review the BBC Micro
Click for larger image
Source: Retroisle
But for many would-be buyers, the BBC Micros were too costly. Consumer resistance to the high price of the BBC machines persuaded Chris Curry to propose a cheaper follow-up machine, the Electron, in the hope of winning over the big mainstream – and generally games hungry – audience Sinclair's low-priced Spectrum had grabbed. The £199 Electron would use BBC Basic and all but one – the Teletext mode – of the BBC Model B graphics modes.
The Electron debuted in August 1983, just ahead of Acorn's flotation. However, Acorn's suppliers proved unable to manufacture anywhere near enough of them to satisfy consumers' demand for home computers that Christmas. Some of them took the extra cost on the chin and acquired Beebs – other punters bought rival machines, like the Dragon 32, launched, like the Electron, in August, and the Commodore 64, which only entered the UK in December 1983.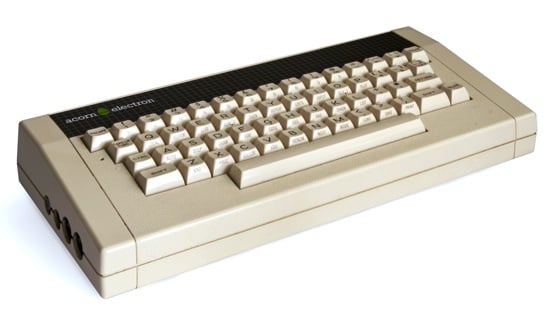 Acorn VIC-torious in the low end? Alas the VIC-20 esque Electron was not the hit the company hoped it would be
Source: Wikipedia
Determined not to suffer the same fate in 1984, Acorn drove production hard… right at the point the UK home computer market reached saturation point. So many machines had been sold for Christmas 1983 no one wanted on 12 months on. Though the BBC Micros continued to sell, albeit more slowly, Acorn was left with stacks of unsold Electrons. In February 1985, to avoid being wound up by its creditors, Acorn was sold to Italy's Olivetti.
Throughout this time, the evolution of the BBC Micro continued, gaining extra memory – 64KB and then 128KB – and culminating with the debut of the BBC Master in February 1986. It was intended to tap into the schools and colleges market that formed the core of the original models' sales – to the extent the previous schools' favourite, Research Machines, had already ensured its 1983-launched 480Z, the successor to the popular 380Z, ran a version of Basic that closely followed BBC Basic.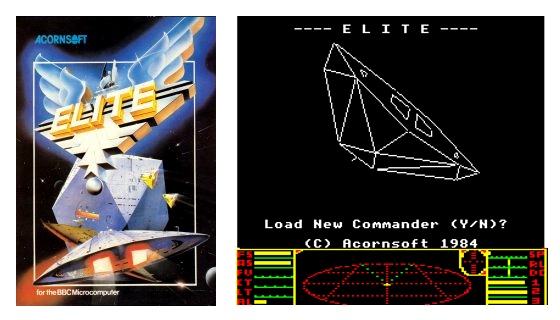 The BBC Micro finally gets a great game: Elite, released in 1984
In June 1987, Acorn released the Archimedes, a desktop computer based on its own ARM2 processor. Two of the first four models – the A305 and the A310 – were marketed with BBC branding and shipped with a BBC Micro emulator on board for backwards compatibility.
But by now the BBC Computer Literacy Project was a distant memory, though Model B graphics and sound effects could still be occasionally seen and heard in Doctor Who.
A final BBC Micro, the A3000, was launched in May 1989. It was the last of the line. ®
The author would like to thank all those fellow enthusiasts for scanning and uploading so many adverts and manuals from the 1980s, without which this article would have been much less detailed.
COMMENTS
Re: i'm off for a walk down memory lane...
Only shame is you can't go and do it in WHSmith, Boots, Laskey's, etc any longer
What the article doesn't mention is the BBC's operating system. Unusually for most micros of the age, which mostly consisted of a CPU and some RAM in a box with just enough Basic to let you write programs, the BBC actually had one. It was simple and elegant and very modular: the OS ROM lived in the top 16kB of address space, then you had a paged bank of application ROMs living in the next 16kB section, and the bottom 32kB was shared RAM.
Application ROMs could consist of standalone utilities, proper applications (like the excellent BBC Basic, or word processors like Wordwise or View), file systems (like the fast and simple DFS, the slower but much more sophisticated ADFS, the network file system NFS, etc), and so on. The OS would seamlessly page from one to the other, so an application ROM could make file system calls which would get delegated to the currently selected file system even though they both lived in the same place at the same time. It was even possible to open file descriptors to more than one file system at a time and copy from one to the other!
The OS system call API was fast, capable, well-documented and sufficiently abstract to allow some really neat things: the Tube second processor interface allowed system calls to be executed via RPC from a *completely different computer*. Tube second processors really were CPUs in a box; no I/O other than the connection to the BBC, no ROM other than the RPC stub. So you got 64kB of RAM and maximum perforfmance, with all the fiddly I/O overhead handled by the BBC itself, now acting as a dedicated and extremely capable I/O processor.
And the Tube wasn't limited to 6502s --- they also made Z80, 32016, 68000 second processors, all using that same system call interface. Even the ARM chip, now a juggernaut taking over the world, started life as a second processor connected to a BBC micro!
(I don't believe they ever tried system call RPC via Econet, but it would have been an interesting experiment.)
It's a shame that Acorn's master plan fell through. After the Electron debacle, they regrouped and produced the BBC Master, which was an excellent machine in many ways but not a patch on the machine that *could* have been. With better marketing, we could by now be using BBC-descended multiprocessor systems instead of PCs...
Electron?
I knew a whole two people with a Beeb, about 20 - 30 of us with Speccies and even an Oric user.
But never once heard of anyone wanting a an Electron; a Spectrum 128 / QL, C64's yes but an Electron?
Ahh I miss those day. BBC's are Pants Spectrums rule! No Spectrums are toys, BBC are proper computers.
Shame we don't have any of that childish behavior 30 years on.
"Please stop this absurd idea that the BBC "B" mattered."
Please stop this absurd idea that the BBC "B" didn't matter.
Just because a lot of schoolkids played games on their Spectrums and C64s doesn't mean that there wasn't a hell of a lot of people who did get to use the BBC (and Electron) at every level of education (primary, secondary, tertiary, higher), in addition to the people who did have those machines at home, and no, not all of those people were "posh" or "rich", either.
The absurd notion that the BBC was only as influential as the Tandy and the Oric (which one?) is a bit like saying "That ARM chip led to nothing!" while stroking your smartphone - a clueless retort based on the kind of playground tribalism mentioned in the article that ignores the actual influence on society this specific technology had.
BBC Micro - best 8-bit computer of all time
Although Apple set the standard years earlier with the Apple II, the BBC Micro trumped it and all other 8-bit computers ever made by having the best hardware, OS and BASIC interpreter of its class. Sort of a "UK Mac" for the early 80's if you will and it wasn't until the Archimedes came out in 1987 that the technical prowess of the BBC Micro was finally beaten (yes, I tried an early Mac, but it felt quite straitjacketed even back then).
I helped out in a computer store in the early 80's and saw pretty well every type of 8-bit micro that was going then. Spectrum had the most games obviously, but its keyboard, graphics and sound were so poor as to be actually embarrassing to use. The Commodore 64 probably came closest in terms of hardware to the BBC, but was hugely let down by its poor OS, BASIC and utterly dismal disk system (so slow, that it was beaten by turbo tape loaders!).
I think that the BBC Micro was a perfect design for going into schools to replacing fairly doddering RM 380Z's and the like - its strength was indeed the OS and BASIC - the built-in assembler was a stroke of genius and you could actually develop commercial code on the same machine you ran it on (note that many Spectrum programmers - think Manic Miner and the like - used TRS-80's to code Spectrum games (downloaded via some clever add-ons) on because the Spectrum itself was a disaster to code commercially on.
The crying shame that was overpriced and never actually came down in price during any time in its production run, which ultimately was fatal to it. A drop of 100 quid would have probably doubled its sales. The Electron was horrendous - who wants a machine with no Mode 7 and half the speed of the BBC, especially when it was launched when pretty well everyone who wanted something in the BBC Micro range already had one.
I also felt Acorn were terrible at marketing - you'd hardly ever see ads on TV or print media for it, whereas Spectrum ads seemed to be everywhere. The Spectrum may have been significantly worse in almost all respects except the amount of RAM (the hardware was shoddy, it was slower, the OS and BASIC were simply dreadful), but Sinclair knew that once he got game developers on board, the cheaper machine would win out, even if it was basically a piece of junk.
My path went BBC Micro A, added RAM, added disk interface and disk drive, added speech chip, added sideways RAM (very handy for, er, running ROMs from disk)...then about 5 years later, jumped to the Archimedes A310, which I never bothered with a hard disk because it booted from ROM and 3.5" floppies were quick enough for me at the time.
Loved the Archimedes hardware, OS and BASIC again - a tour de force of engineering, the ghost of which lives on in most mobile phones as the ARM chip of course. Built-in assembler and a module loading system to add functionality, plus a reasonable WIMP for the time (perhaps not as good as the Mac's, but certainly better than GEM and Workbench) combined to make it a dream ARM development system.
It took many years of Archimedes use before a generic PC with Linux finally overtook it both in terms of speed and functionality - yes, I've never used Windows as a primary OS in all that time, though I do it run it via dual boot or VMs occasionally.
The 80's were the golden age of choice in the UK, but the 90's brought us the "one PC fits all" of Windows 95, the "nice but overpriced" of Macs and very little else (Linux really did take a long time to get the distros to be easy to install and use, but now they are technically by far the best OS to use, particularly if you are a developer).