Samsung Galaxy Nexus Android smartphone
Ice Cream Sandwich, anyone?
Off-line contentment
The browser has some new features. It now offers multiple pages, including the Incognito option from Honeycomb, and there's a new look to the drop down menu.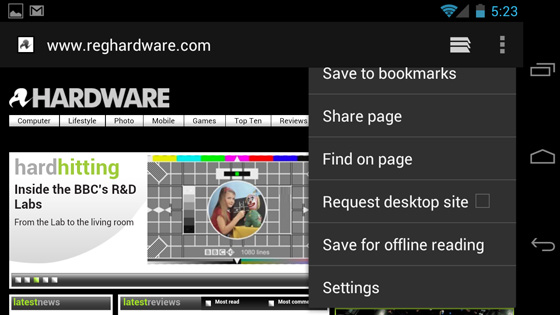 Off-line browsing is an option on Android 4.0
You can also save pages for viewing later offline and force the browser to display the desktop version rather than the automatic mobile version of its site, which can come in handy if you want all the features from an under specced mobile site. All is fast and intuitive too, and pages render well on that really rather gorgeous screen, though there's no support for Flash yet. However, the word from Adobe is that it's working on an update for Android 4.0.
Call quality was fine over the Nexus's speaker despite reports of a glitch in the system that causes an occasional drop in volume, which Google has promised to fix pronto. I didn't notice this during any calls, but it did occasionally happen when playing music and watching movies – if they don't fix it quick, it could be a serious problem for take-up of this phone.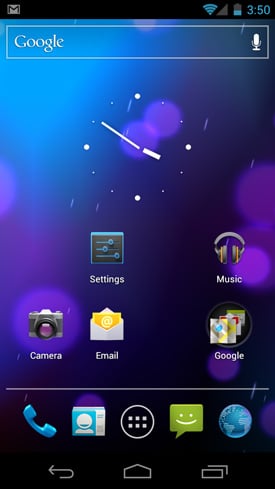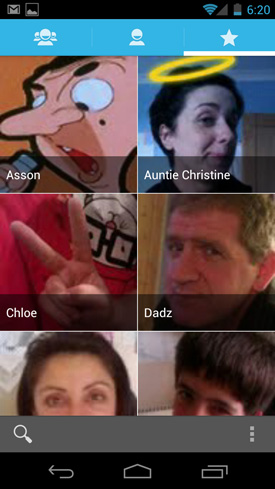 Homescreen and contacts display
There's 16GB of memory available, which is good, but unfortunately that's your lot, since there's no microSD slot. Like Android Honeycomb however, you can use all of the available storage for apps as well as media.
The 1750mAh battery is big and powerful, but there's a lot of technology to drive, so while battery life was certainly no disaster, you shouldn't expect more than a day of heavy use.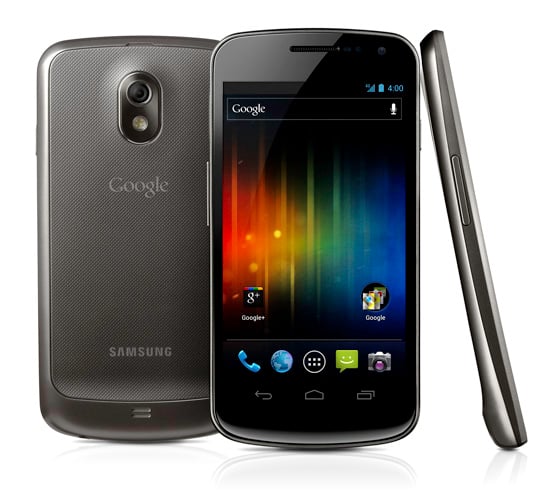 Following the iPhone and WinPho 7 norms, there's no storage expansion on this handset
Verdict
The Samsung Galaxy Nexus leapfrogs its rivals and its workmanlike predecessors to become the best Android phone so far. The latest 4.0 version of the Android operating system is packed with improvements as well as a highly welcome new look and feel. Plus, it's backed up by a superb screen, very fast processor and decent battery life. The camera, while satisfactory, could have been better though. Even so, it's a top quality handset that will be hard to beat, at least until the Galaxy S3 turns up early next year with its rumoured 1.8GHz processor. ®
Thanks to Three for the loan of the review sample.
More Smartphone Reviews

Motorola
Razr
Nokia
Lumia 800
Ten… Androids
to outshine
the iPhone 4S
RIM
BlackBerry
Torch 9860
Apple
iPhone 4S

Samsung Galaxy Nexus Android smartphone
First phone to tout Android version 4.0 – Ice Cream Sandwich – it also boasts an HD screen, dual-core 1.2GHz CPU and 1080p video recording.