Mars rover Curiosity autographed by Obama
Also schoolgirl who named it, 1.24m others
NASA's Mars rover Curiosity, which departed Earth bound for the red planet on Saturday, carries a collection of signatures inscribed on its chassis including that of US president Barack Obama and other worthies including NASA bigwigs and the schoolgirl who named the radical nuclear-powered robot vehicle.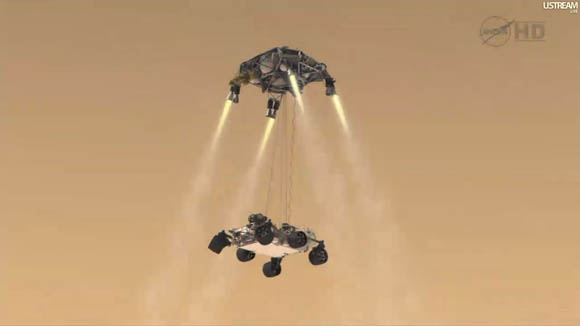 Ha ha, Nixon, having your John Hancock on the Moon is for nobodies.
"It turns out getting the president's signature on anything is rather involved," NASA's Curiosity project chief Peter Thesinger told Collectspace.com, describing the various signatures inscribed on Curiosity.
It turns out that there are rather a lot of these: no less than one-and-a-quarter-million all up, though almost all of these are microscopically small. They are the names of members of the public submitted online and during visits to NASA facilities, and were written onto silicon wafers in extremely tiny script using an electron beam.
Apart from this there is the presidential plaque, carrying Mr Obama's signature and those of other worthies including NASA chief General Charles Bolden and other senior space figures. Apparently the inclusion of such plaques is a long-standing NASA tradition, which has among others seen a fine selection of Richard Nixon autographs left on the Moon by the Apollo programme.
The only person to personally sign Curiosity was Kansas schoolgirl Clara Ma, who won a competition to give the rover its name and was duly invited to the fabrication complex in California to add her inscription in 2009.
"Knowing that my name will be on another planet is pretty amazing," she told Collectspace.com.
The Mars Science Laboratory spacecraft carrying Curiosity to the red planet is expected to arrive there on August 6. The rover will make a blazing entry into the thin Martian atmosphere in its special aeroshell, then slow down further using a parachute before exiting the aeroshell suspended beneath a complex retro-rocket vehicle which will come to a hover above the landing site in the Gale crater before lowering Curiosity to the surface on cables in "sky crane" mode. ®
Sponsored: RAID: End of an era?