Asda 'geekend' offers are for the birds
Turkeys for everybody...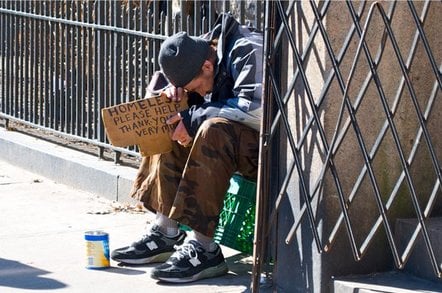 Asda is opening the doors to its bargain basement grotto this weekend with supposedly cut-price deals on internet access devices and mobile data tariffs.
As El Reg recently revealed, the low-cost supermarket chain is trying to drag shoppers into the internet world, claiming its customer base is probably PC-illiterate.
Starting this weekend, price-conscious shoppers will be able to pick up a T Mobile Rapport smartphone for £57 with six months free web access and £20 worth of free apps – this represents a massive saving of £3 on the same deal offered by T Mobile.
In terms of fondleslabs, Asda will punt the Asus Eee Pad transformer for £399 which is on offer from PC World at exactly the same price. (Athough bizarrely Asda promises that "further breakthrough deals will be announced before Christmas".)
On other supposed headline-grabbers, it is offering a BlackBerry 8520 handset with £10 of free airtime for £99. T Mobile is flogging this for free with a two-year contract priced at £15.31 per month.
Pay-as-you-go mobile data tariffs present "dramatic savings" for surfers, offering 25MB of data for 75 pence a day. This equates to £3 for 100MB and £30 for 1GB.
An Asda-branded DAB radio will be available for £20 – slightly cheaper than the Argos Value Range at £24.99 – while the ONN Blu-Ray player is sold for £40, but canny shoppers can pick up a shiny Panasonic-branded device for £30 more.
Nathan Mills, category director for electricals at Asda, said: "From this Geekend we're offering these great deals for our customers as part of our commitment in the lead up to Christmas to make internet access as affordable as possible for everyone."
The eye-watering deals – possibly for all the wrong reasons – don't seem to stack up and the massive savings the supermarket promises probably wouldn't stretch to a very, very small turkey, which is what Asda seems to be selling.
All offers are available online – bit of a problem for its supposedly Luddite demographic – or by phone, presuming Asda shoppers made it into the 20th century.
"Some offers will be available in-store," the firm said.
Asda, is the UK's second biggest supermarket chain, behind Tesco, and is a subsidiary of Walmart, the American monster retailer. ®
Sponsored: Minds Mastering Machines - Call for papers now open