It's the ALL NEW FUTURISTIC WEAPONS Black Friday Roundup!
Suitcase assassin drone, electric stun rockets and more
The Electric Shock-Rocket* Auto-Thudgun
OK, so you're not an international assassin any more. Now you're an elite police SWAT officer**. You often go into situations where you need to open fire using deadly force: but you're supposed to take them alive whenever you can, so ideally you need a non-lethal option. You also need this non-lethal option to work at longer ranges, so a regular Taser deploying its barbs on wires is out, as it can only take down someone within a few metres.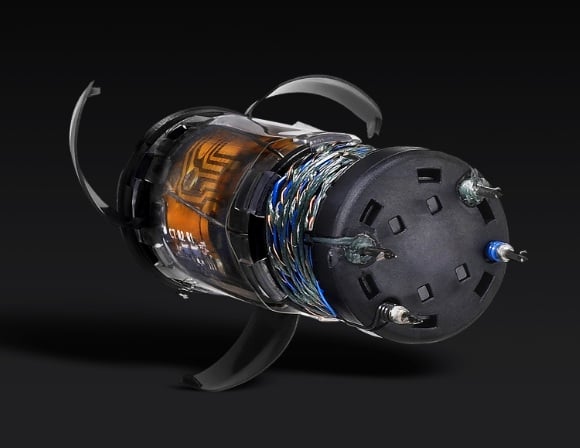 Electric stun zapbomb as used on Raoul Moat.
There is a potential solution, the Taser XREP projectile. This is designed to be shot out of a regular 12-bore shotgun. It then flies through the air, strikes its target comparatively gently for something that has come out of a shotgun, and uses its own battery to deliver a crippling zap of electric current as though from a handheld contact stungun. The XREP was famously used by British firearms officers against the rampaging gunman Raoul Moat in an apparent unsuccessful attempt to prevent him shooting himself - which later led to controversy as the XREP had not yet been formally cleared for UK police use.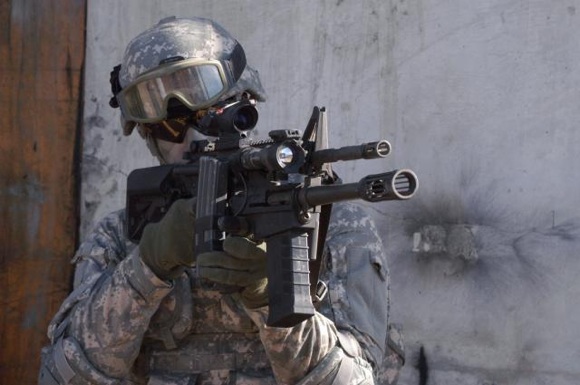 You could just load this up with electro-zap shells ...
It's possible to mount an automatic 12-bore shotgun under the barrel of a military assault rifle, in place of more commonly seen 40mm grenade launchers sometimes found under there (such launchers, deployed as an independent weapon, were formerly known as "thud guns" or "thump guns"). Such a combination, loaded with XREP zap shells in the shotgun, would offer both lethal force and a non- or less-lethal option all in one, just what you need.
But a rifle/shotgun makes for a rather heavy and cumbersome combo weapon - not one it'll be simple to point and shoot in a hurry.
But not to worry, my heavily armed law-enforcing friend. Taser International and Aussie crazy-guns firm Metal Storm have an answer for you. They've teamed up to produce an XREP electro-stun warhead mounted on a Metal Storm rocket base. Metal Storm rockets can be stacked up one on top of another in a gunbarrel: as they don't leave behind a cartridge case when fired, they can be triggered electrically one after another very quickly indeed (multibarrelled Metal Storm test weapons achieved rates of fire above a million rounds per minute in the 1990s, leading to much hype and speculation at the time).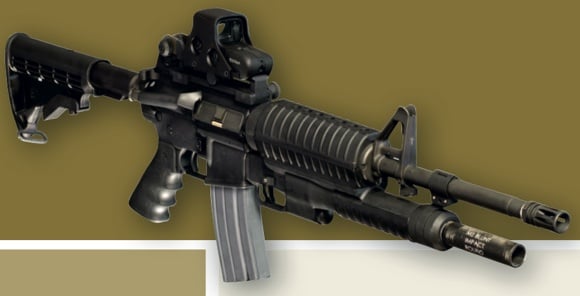 This does look less fiddly, and adds more tech madness.
The idea is that one would have a five-shot "MAUL" stun-rocket launcher mounted beneath one's assault rifle. This would be much lighter than an auto-shotgun as it needs no magazine or action, and could ripple out its superimposed rocket zapbombs as rapidly as its user might require - in a fully-automatic burst, if required, though at the cost of punishing recoil from the all-burned-on-launch rockets. Being electrically triggered, the firing switch could easily be remoted back to the rifle's trigger group where it's wanted, too, though this isn't done in the standard MAUL design.
Whether the world really needs such a thing remains to be seen, however. The advantage over a normal underbarrel shotgun might not be enough to persuade cops or troops to adopt a new type of ammunition, and the capability seems to be somewhat niche-within-a-niche to put it mildly. This is the more so when one reflects that many SWAT-cops and some soldiers generally carry shotguns into a firefight anyway, not bothering with a rifle. Then, shotgun-toting US SWAT police generally seem to favour the use of "beanbag" cosh rounds over any form of Taser, perhaps because of the negative publicity that generally follows any use of electroshock weapons.
But the XREP MAUL will at least be developed, even if it never sees widespread use: it is a real thing, not just a gleam in a weapons maker's eye. And as a by-god electric rocket shockbomb auto-thudgun, it's definitely worthy of a place on our mad futuristic weapons list.
*Shocket™?
**Or for British readers, a Specialist Firearms Officer; or for some eastern US readers, an Emergency Services copper as opposed to SWAT. The New York Police Department's Emergency Services Unit acts as the city's SWAT squad and does many other things besides.
Sponsored: Minds Mastering Machines - Call for papers now open