It's the ALL NEW FUTURISTIC WEAPONS Black Friday Roundup!
Suitcase assassin drone, electric stun rockets and more
The Shoulder-fired Homing Sniper Missile
OK, you're back being a master hitman again. You want to pick off an individual target at very long range. You could use the Switchblade/Anubis that we looked at earlier, but there's a problem in this case: the other side have competent electronic-warfare specialists, and a continuous video link to the drone munition is a big no-no. These people might not just jam it, they're so good they might conceivably get a location on the firing point as soon as you switch on and shoot first. (Though they might be cheesed off about pay and not on the top of their game.)
No, you need to stay totally radio-silent here: transmissions from your equipment are out. To make it a bit easier, this time you do have line-of-sight to your target, but the old sniper rifle just isn't going to do it today. You have line of sight, yes, but you're viewing the area from a skyscraper several kilometres away and when your target appears he or she will be moving and you'll only have time for one shot.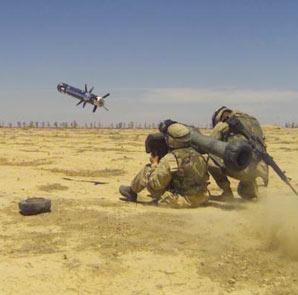 OK Mr Sniper, suck on this.
Perhaps one day, if Pentagon crazytech agency DARPA ever manages to perfect the guided .50 smart-bullet as it is trying to do, you might manage this sort of job using a heavy cal-fifty sniper rifle. But in fact it might be managed today, up to 2.5 km or so anyway, using a shoulder-fired Javelin missile. This was actually developed as an anti-tank weapon, but British forces fighting in Iraq and Afghanistan have frequently used it to take out individual snipers or small groups such as machine-gun crews - so much so that the British Army had to expensively purchase extra stocks.
But the Javelin is fat and heavy: it is only marginally portable and useable by a single man, and usually has a crew of two, so it isn't really suitable for our line-up here. Furthermore it doesn't have enough range for our task today.
But there is something much more suitable on offer nowadays. As regular readers will recall, US Navy boffins have lately added a cunning "fire-and-forget" homing seeker like the Javelin's to much slimmer and lighter 70mm rockets, which weigh just 6kg as opposed to 12kg. The naval brainboxes are looking to shoot these at multiple targets from helicopter pods holding many rockets, but in this context it's intriguing to note that the Norwegian arms industry has recently offered (pdf, see page 140) a tripod mounted, portable single-shot 70mm launcher modified to home on a laser dot, for special forces use.
An offering similar to the Norwegians', but fitted with the new US Navy LCITS fire-and-forget homing seeker instead, would offer the same capabilities as a Javelin but with much more range, much less cost and much less overkill on the warhead - indeed the option would probably be there not to use an explosive warhead at all and simply let the projectile drill a 70mm hole in its target as in the Office of Naval Research vid above. And the package of launcher tube and command unit would be much lighter-weight than a Javelin to boot, truly portable for a single person.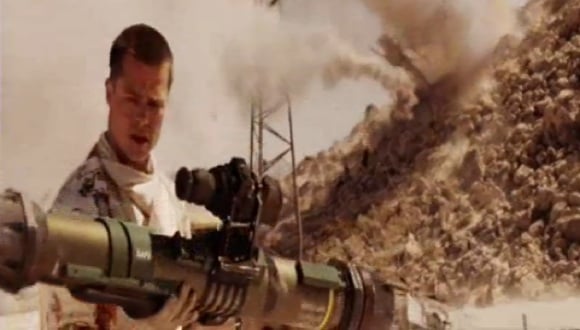 Something a bit less punchy might have been more the go.
We might not see such things being used to settle marital disputes - Brad Pitt seemed to be favouring the heftier Javelin-style option for use on a troublesome Angelina Jolie in Mr and Mrs Smith - but there can't be much doubt that the weapons industry could nowadays quite easily assemble a light, slender, fire-and-forget passive homing sniper missile with a useful range well over 5km. Such a thing could surely be sold without condemnation to ground troops in Afghanistan, even if not to international hitmen or assassins.
Sponsored: Minds Mastering Machines - Call for papers now open