Olympus PEN Mini E-PM1
The cheapest Micro Four Thirds camera money can buy
Olympus has also provided the PEN Mini with a Live Guide that aims to offer intuitive explanations of photographic functions and modes to complete beginners. The E-PM1 does not have a built-in flash unit but a clip-on tiltable external flash does come in the box as an accessory.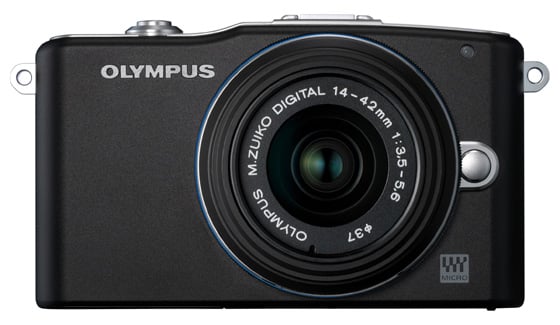 The nifty autofocus is a boon
The all-metal body of the PEN Mini is slim, small and slick but it is also extremely smooth without any sort of grip, which makes the handling of this camera a bit slippery and not as comfortable as that of its bigger brothers. The back is dominated by its 3in, 460k-dot LCD screen. The display itself is sharp and clear but is quite reflective and having an aspect ratio of 16:9 works very well for HD video capture but with 3:4 stills, much of its size is taken by the necessary black side bars.
Olympus flags up a fast autofocus system as one of the main selling points of this camera and it actually does work remarkably well. The 35 AF points system provides reliable and immediate focus in virtually all situations. Overall, the PEN Mini is a good performer and a fast snapper, with a continuous shooting speed of up to 5fps in RAW format and excellent in-between shots times, which is very good news for this level of camera.

The hotshoe also accommodates a range of PEN accessories
I tested the camera with the 14-42mm IIR f/3.5-5.6 kit lens which isn't the fastest but delivers sharp detailed results devoid of significant aberrations. Image stabilisation is provided in-camera rather than on the lens but it is equally effective, with a system of sensor shift that Olympus calls Supersonic Wave Drive.
Needless to say, the E-PM1 is compatible with all the other brilliant PEN optics, meaning this diminutive model can be a very versatile shooter capable of semi-professional results when coupled with prime lenses. The mount is the same for other MFT manufacturers and I tried it out with Panasonic lenses too, with no problems.