Shock claim: Playing Elder Scrolls WILL MAKE YOU GAY
Skyrim jobs for all
Many of you will take to the pad this weekend, bashing away at fantasies, wiggling the necromancer, whacking demons and enjoying all else that Elder Scrolls V: Skyrim has to offer.
But since playing the game, have any of you noticed feeling more inclined to turn the other cheek? Have you been spotting euphemisms for masturbation in the text you read? Well you've probably been affected by Skyrim's homosexual undertones that are sure to take a straight man and turn him gay.
That's the satirical claims of Christwire anyway, a parody site that mocks the views of conservative Christians who like to take swipes at videogames.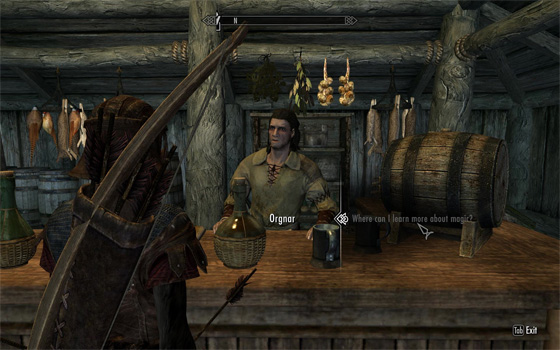 Looking for a night of magic big boy?
Apparently, if you are a responsible parent, you should keep your kids away from Bethesda's latest RPG as it's just "violent dragon porn" that goes "against God and would send [a gamer's] soul to the fire pits of Hell".
Have a ganders at the article - it's pretty funny Friday reading, especially when it starts giving definitions for terms such as 'Skyrim Jobs', 'Dragon Fisting' and 'Icy Spear'. Probably not suitable for work, though.
You'd think the author could have been a bit more accurate in his satirical complaint too, listing the game as an MMORPG made by Blizzard. Apparently Skyrim can be found on PlayStation 1, 2 or 3, Gamecube or Xbox 360 Live Kentic as well.
Er... Kentic?
OK, it's clearly a joke and just one story within dozens that make fun of the stereotypical views of conservative Christians, but let's not forget there are actually people in the world who believe all this, many of whom are one handed spear-cleaners. Apparently. ®
Sponsored: Minds Mastering Machines - Call for papers now open