SHARKS tempted by BIKINI CLAD Thanksgiving BABES
Experiment to ruin dreams of evil billionaires everywhere
Half-naked women will swim with great white sharks in an experiment conducted by a marine biologist to understand the fish's hunting patterns.
Dr Ryan Johnson told ABC News's Nightline programme that he wanted to dispel what he considers to be rotten myths about the powerful sea creatures.
He has dived with sharks countless times over many years in South Africa and only came close to danger once. Now he has enlisted the help of bikini-clad women, who Johnson tastefully dubbed "shark angels", to test the claim that the great white is a menace to anyone taking a dip in the deep blue sea.
"All of us on this crew are convinced that what we're doing is responsible," he told ABC News, which last night aired a taster of what viewers can expect from Nat Geo's WILD channel's upcoming show Shark Attack Experiment LIVE, due to go out on 25 November in the US.
"We wouldn't be doing this if we thought we were going to get bit. It's a chance for us to put ourselves on the line and prove our theories," Johnson added.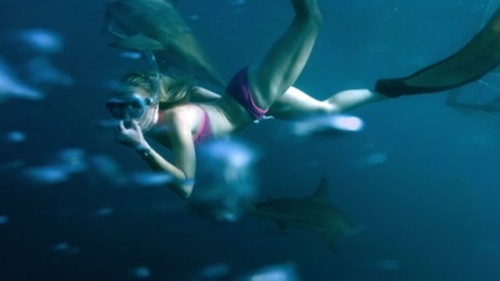 Image courtesy of ABCNEWS.com
The biologist is confident that his angels will be safe during the live broadcast, and said the TV show would help shatter the great white's bad boy reputation - made infamous, perhaps, by Steven Spielberg's movie Jaws.
"This is what the element of live TV can do," said Johnson, who wants to help protect the predator's population.
"You don't see that three months of filming cut down to that 20 seconds of gory action, action, action. You're actually gonna see what great whites are like, doing little sharky things, being calm and they're stunning to watch."
Coming face to face with a shark
Great white sharks spend around six months of the year cruising just half a mile or less off some of the best-known beaches on Africa's continent, according to ABC News.
In September this year a British man was attacked by a great white shark at Fish Hoek Beach near Cape Town, South Africa. He reportedly "ignored" the warnings that the shark was close to the shore. Michael Cohen, 42, lost one leg in the attack and his other leg was severed below the knee.
Johnson is clearly confident that his beach babes will be more fortunate when they take their dip with the predatory creatures during the live broadcast.
On his website, the marine biologist explained how he once came close to being gobbled up by a great white.
"I have encountered many great white sharks while scuba diving and free diving before, and only once have I felt any danger. It happened to be the one time I entered into 'white shark waters' without some form of protection (spear gun or a poking stick) and I was alone," he explained.
"The shark tested me for about 20 minutes circling and approaching me. I knew I could not swim away, and had to hold my ground, ducking underneath the shark on every approach. I was obviously breathing hard (due to nervous energy) on my scuba and I had the awful predicament of making myself very vulnerable to the shark by surfacing in its presence, or staying put, and running out of air.
"Luckily I stayed put, and the shark left (as they usually do). Looking back I feel privileged that I had such an intimate encounter, and it confirmed to me that humans can interact with even the most interested great whites if you don't panic." ®
Sponsored: Minds Mastering Machines - Call for papers now open