Affordable luxury?
The computer is a careful consumer of power, drawing approximately 55W while charging and around 60W while being used (and charging in the background). In sleep mode, the power consumption drops to 1.3W.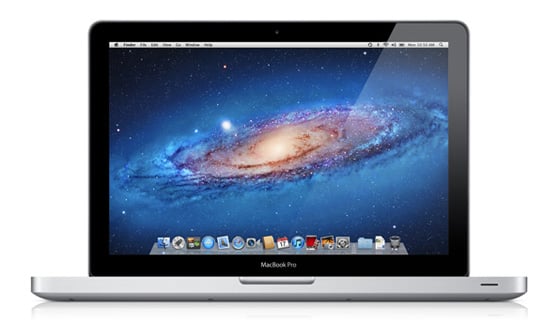 Paranoid users will appreciate the LED that illuminates when the FaceTime HD camera is active
With all power-saving functions disabled, the MacBook Pro performed respectably in Reg Hardware's full-on battery torture test: I managed 127 minutes of non-stop benchmarking before the unit switched off. This should be enough to get me through a day of sporadic, general computing tasks without constantly panicking about needing a recharge.
The MacBook Pros, of course, provide a secret battery level indicator on the left-hand edge, so I would never have to switch on the computer to see how much power was remaining.
Verdict
Here's what I don't like about the latest 13in MacBook Pro: it's so very, very expensive. I can forgive the shared-memory graphics and the lack of USB ports, perhaps also the fairly average processor performance, and I could even get used to the small display, but £999? For that kind of money, it had better be the best bloody entry-level notebook computer in the world. The problem is that it is. Thank you for listening, m' lud. Jailer, take me down. ®
Thanks to Square Group for the loan of the MacBook Pro and Thunderbolt Display.
More Notebook Reviews

Apple
MacBook
Air 13in
Lenovo
ThinkPad
X1
Acer
Aspire S3
Ultrabook
Sony
Vaio
SB
Dell
Vostro
V131

Apple MacBook Pro 13in
Apple's refreshed entry-level MacBook Pro laptop gets a few performance tweaks.
COMMENTS
looks nice...
but so does a super model. the super model also has the same problem: I can't (or better won't )afford her.
just last week I bought an asus laptop (6GB, I5 2430m, 750GB, Gforce 520mx) including an USB 3.0 port.
for... HALF THE PRICE. HALF. one time again: HALF. did I already say it? Half. the. price.
I could literally buy 2 K53Sc's for one macbook pro. 2.
same cpu. more memory. more Hdd space. usb 3. bigger screen. better graphics. 2 hours work time? also check.
but...No apple logo. is that logo really worth 500 pounds?
your end conclusion is very, very correct: "it's so very, very expensive."
I understand why this is not cheaper, that just not Apples market, let Dell and lenovo etc fight it out down there,
At a thousand quid i dont understand why its not better specified.
Spending £1000 on a computer is soooo 1998
It is indeed a very fine looking piece of kit but.....................
........................" I can forgive the shared-memory graphics and the lack of USB ports, perhaps also the fairly average processor performance..................."
At £1000, no I most certainly could not. At that price I expect the full works with regard to connectivity and storage and nothing but the full works - end of. All the styling and the build quality in the world is let down by those kinds of omissions. That, IMHO makes it about 15 - 20% overpriced. Without getting into a discussion of the os the most I would pay for that machine would be £850 - max.
Expensive?
I've run Powerbooks, Powerbook Pros, Macbook Pros for the past 12 years. They are only expensive if you only look a raw specs. If you look at the whole package they aren't.
I recently challenged our IT department to find me a laptop with the same specification for less money. I wanted the same battery life, the same screen resolution and quality, the same graphics chipset. They couldn't. The killer was battery life and screen quality.
Its all about horses for courses. I run a Macbook Pro because I can and I like what they offer. I could buy a cheaper PC laptop but I would be compromising in some form or other. Of course the rabid anti-Apple zealots will just call me a fanboi or worse. Shame that.