Apple MacBook Pro 13in Core i5 laptop
More of the same but different
Review Guilty, your honour. In mitigation, I would like to assure the jury that I do not automatically adore everything with Apple branding on it, nor have I any intention of jacking off over a Steve Jobs biography. I just happen to like the current range of Apple MacBook Pro notebook computers, that's all. Is it such a crime?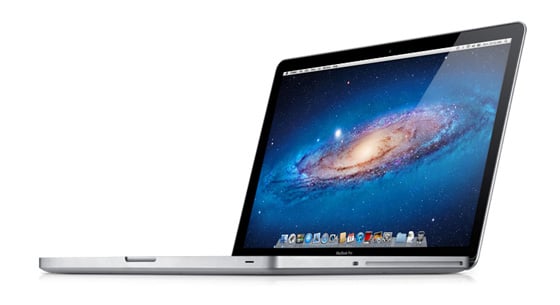 Bright, contrasty, wide viewing angle: Apple displays are the mutt's nuts
So here I am, dressed in stripes and manacled to a 10-foot thick wall in Register Hardware's dungeons, reviewing yet another MacBook Pro. This time, I'm determined to be sour, po-faced and negative, otherwise the readers will press for a death sentence.
And I remained negative right up to the point at which I turn the computer on.
As I bring the Apple power plug towards the MagSafe socket, it leaps magnetically into it. I open the flush lid and push it right back, yet the tilt-free MacBook Pro remains glued to the surface of the desk. When I press the on/off button at the top-right of the keyboard, the casing does not creak, nor does the computer make a stupid farting noise as it starts up.
This is not just any notebook computer, as Marks & Spencer might say.

MacBook Pro: an open and shut case. Ho ho! Did you see what I did there?
What we have here is a gently upgraded version of the 13in MacBook Pro that was last updated in February. This entry-level model has an Intel Core i5-2430M processor that's just 0.1GHz faster at 2.4GHz and is fitted with a 500GB hard drive to replace the previous 320GB unit. In line with Apple convention, however, the price remains the same.
Apart from the enormous Apple logo on the lid, there is nothing vulgar or tacky about the design. Everything is plain and coolly understated, from the overall flatness of the closed computer to the consistent black-and-aluminium styling of the screen and keyboard, and even to the complete lack of any hideous and unnecessary sticky labels celebrating the fact that your notebook has components inside it.

All connectivity ports are ranged along the left-hand edge, including Thunderbolt
DVDs and CDs are slot-loaded from the right edge. All the ports are ranged along the left edge. There's not much to look at. There's nothing to snap off and nothing that looks as if it could fall off. Sod M&S, this is certainly not just any notebook computer, it really isn't.
COMMENTS
looks nice...
but so does a super model. the super model also has the same problem: I can't (or better won't )afford her.
just last week I bought an asus laptop (6GB, I5 2430m, 750GB, Gforce 520mx) including an USB 3.0 port.
for... HALF THE PRICE. HALF. one time again: HALF. did I already say it? Half. the. price.
I could literally buy 2 K53Sc's for one macbook pro. 2.
same cpu. more memory. more Hdd space. usb 3. bigger screen. better graphics. 2 hours work time? also check.
but...No apple logo. is that logo really worth 500 pounds?
your end conclusion is very, very correct: "it's so very, very expensive."
I understand why this is not cheaper, that just not Apples market, let Dell and lenovo etc fight it out down there,
At a thousand quid i dont understand why its not better specified.
Spending £1000 on a computer is soooo 1998
It is indeed a very fine looking piece of kit but.....................
........................" I can forgive the shared-memory graphics and the lack of USB ports, perhaps also the fairly average processor performance..................."
At £1000, no I most certainly could not. At that price I expect the full works with regard to connectivity and storage and nothing but the full works - end of. All the styling and the build quality in the world is let down by those kinds of omissions. That, IMHO makes it about 15 - 20% overpriced. Without getting into a discussion of the os the most I would pay for that machine would be £850 - max.
Expensive?
I've run Powerbooks, Powerbook Pros, Macbook Pros for the past 12 years. They are only expensive if you only look a raw specs. If you look at the whole package they aren't.
I recently challenged our IT department to find me a laptop with the same specification for less money. I wanted the same battery life, the same screen resolution and quality, the same graphics chipset. They couldn't. The killer was battery life and screen quality.
Its all about horses for courses. I run a Macbook Pro because I can and I like what they offer. I could buy a cheaper PC laptop but I would be compromising in some form or other. Of course the rabid anti-Apple zealots will just call me a fanboi or worse. Shame that.