We talk to Moon designer about ULTIMATE sci-fi ship
Gavin Rothery points out successes, skewers failures
Other cool gear
Return of the Jedi speeder bikes – this film sequence is phenomenal featuring some of the most exciting sound design I've ever heard. I listen to this on my iPod when I'm travelling around London and it just gets my blood pumping.
ROTJ Biker Scouts. I still want to be a biker scout and have daydreams about hammering around Endor on a speeder bike and capturing Leia.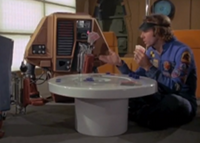 Bruce Dern plays poker with a drone
in Silent Running
The Drones in Silent Running. Some of the most charismatic faceless plastic boxes ever to hit the screen. Truly remarkable how much you ended up caring about these little robots.
Pulse rifle from Aliens. Shit yeah.
Deckard's blaster from Blade Runner. Again, always on my desk.
Original New Hope Stormtrooper helmet. Again, always on my desk. At least until my biker scout helmet turns up.
Worst: Nell, the ship flown by John Boy Walton in Battle Beyond The Stars. I always hated the look of this stupid slug looking thing. It has no practical reason for being this shape and it just stinks of somebody trying to do something different for different's sake. No.
Re-designed Red Dwarf. The original was so gorgeous I just wish they'd left it alone. I know the reason for this was outlined in the story but I really didn't need to see it all long like that. It made me sad.
Trade Federation Droid Fighters from The Phantom Menace. This annoyed me for the same reason the cylon raiders from the new BSG annoyed me. Just don't give a vehicle an actual face, it looks stupid and far less imposing as a weapon.
UFO Interceptors from UFO. The producers of this show missed a trick rejecting the original design by Mike Trim which was loads better than the one they went with.
The hover scooters from Thunderbirds – these always annoyed me. There was no visual clues whatsoever to show how they worked and even as a little kid this sort of lack of visual explanation on fantasy technology used to really put me off. They just floated around like little magic silver chairs with handlebars. Really let the side down compared to all the other cool tech and vehicles in there…
Minority Report finger touch-screens. As if you could do a day's work like this. It's basically a fancy interface for browsing photo galleries. ®
For more of Gavin's fascinating opinions on all things science-fictional be sure to visit his blog http://www.gavinrothery.com/my-blog/ or follow him on Twitter @gavrov
Sponsored: Are DLP and DTP still an issue?