Saints Row: The Third
Extreme - and then some
One step beyond
Just when you think you've seen it all, Volition ups the ante with even more implausible set-pieces. One minute you're engaged in a high-altitude tank battle as you free fall 20,000ft from a cargo plane and the next defending against a siege on your HQ with an increasingly ludicrous arsenal of RPGs, Reaper Drones and airstrikes.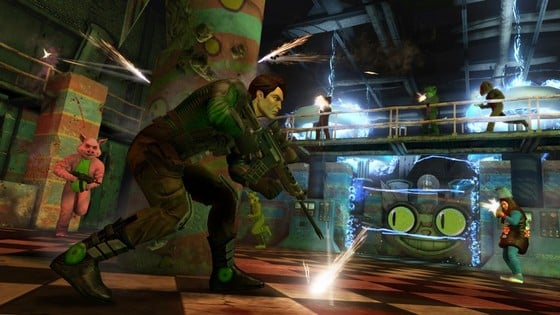 Electric avenue
Volition's OTT satire doesn't begin and end with open-world games, it extends to other videogames and pop culture in general. Not content with its explosive parody on sandbox conventions, the developer bombards you with absurd riffs on other game and movie genres as diverse as Bayonetta, Point Break and Tron.
It's a great trick. The constant stream of novelty masks the limited underlying mechanics while providing plenty of Scary Movie moments as you smirk knowingly at the cultural send-ups. Satirically, it may lack GTA IV's incisive bite, but its charming, if puerile, irreverence constantly amuses.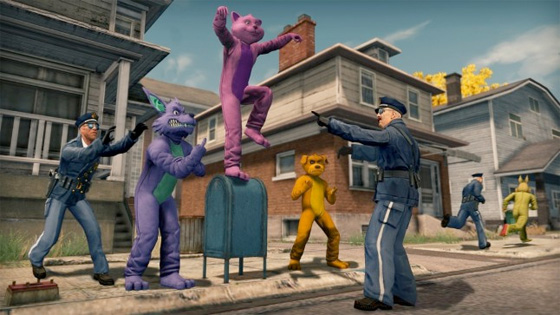 Chasing cats and dogs
The incoherent plot is best ignored, but the ensemble cast delivers some great voice acting and memorable lines, from the melodic bon mots from superfly pimp Zimo's auto-tuned voicebox, to the all-too-brief but exquisitely self-effacing cameo from Burt Reynolds. There's even a decent turn by former professional cock sock Sasha Grey, proving she can still perform even when her mouth's not full.
As Ms Grey's movies testify, the only thing more pleasurable that playing with... sorry, by yourself, is playing with someone else. And it's no different here. Whether creating improvised carnage on Steelport's sandbox streets or tackling any of the missions, the campaign mode dishes up even more belly-laughs in co-op.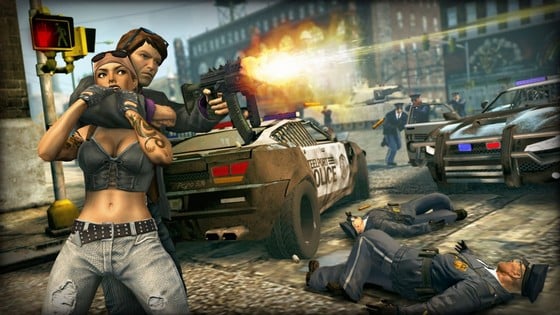 Wow, nice shield
And when you're done with the main mode, how about the game's Whored Mode, an hilarious take on the ubiquitous multiplayer offering mixing up enemies and weapon load-outs from fist-fighting waves of miniature zombies to duelling RPGs against giants dressed up as hot dogs?
Verdict
Saints Row: The Third may be crass, ridiculous and violent, but it's also wonderfully entertaining. By stepping into the void left by the maturing GTA series, Volition has not only stepped out of Rockstar's imposing shadow, it has also proved a paradox – that playing dumb is sometimes very clever. ®
More Games Reviews

The Legend of Zelda:
Skyward Sword
Assassin's Creed
Revelations
Halo: Combat Evolved
Anniversary Edition
The Elder Scrolls V:
Skyrim
The Adventures
of TinTin
Sponsored: Minds Mastering Machines - Call for papers now open

Saints Row: The Third
Rude, crude and socially unacceptable. A lot of fun, then. Available on PS3 (tested) and Xbox 360