Keyboard skills
All the sockets and ports are in the lower half of the chassis which helps keep things clean and tidy. Unlike the Samsung Galaxy Tab 10.1 the dock/charge port is at the back - or the top if you are holding it – where is stays out of way when you are using the tablet.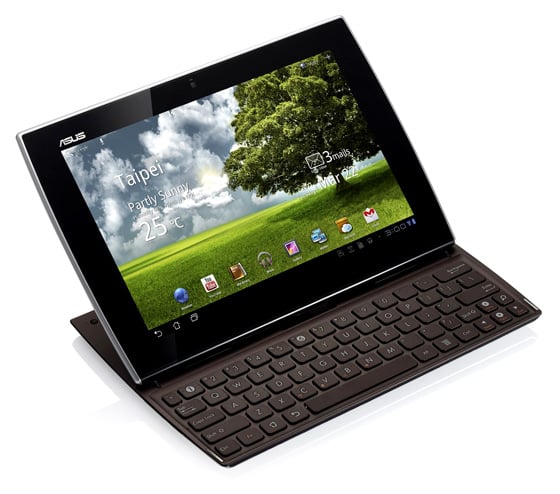 No trackpad but the keyboard combination works well with practice
The chiclet keyboard is a mixed bag. The keys themselves a bit lifeless to the touch and have a rather shallow action. And there's no back light either. That said, any keyboard is better than tap-tapping away on a screen and after a few moments spent getting used to it, you'll be typing up a storm.
The keyboard is also home to some handy one-hit shortcut keys that take you directly to the homescreen, back a step and open a search box as well as function commands to activate the Wi-Fi and Bluetooth radios and change the screen brightness.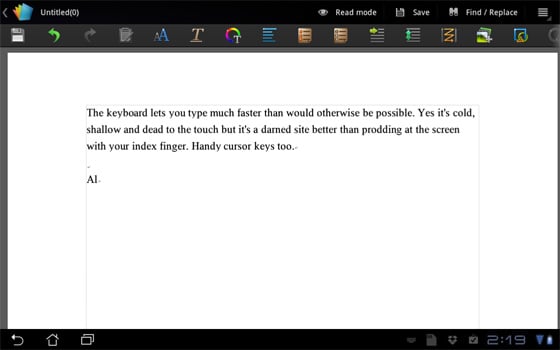 Keyboard comments
Eagle-eyed readers will notice there is no trackpad nor Lenovo-style navigation nipple but that's really no loss when you can still use the very fluid touchscreen UI to navigate your way around or, if you prefer, a USB mouse.
All this fancy hinge-action naturally has an impact on size and weight. Height and width don't suffer but at 17.3mm thick the Slider is a bit of a porker. It's not exactly light either at 960g so holding it one-handed while reading a book can be a strain.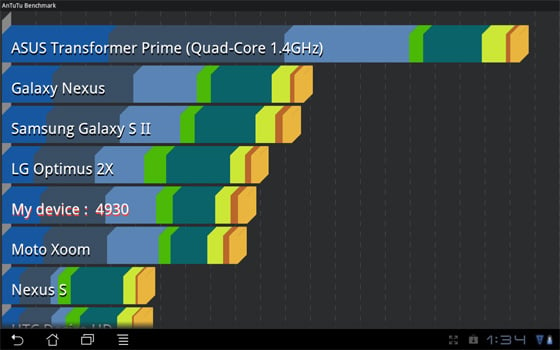 AnTuTu Android benchmarking results
Running Honeycomb 3.2 on a 1GHz Tegra 2 chipset, the Slider performs much like the Transformer or indeed any other high-end Android tablet. The AnTuTu benchmark app returned a score of 4930 which is on a par with the likes of the Sony S tablet.
Asus has already said that the Transformer will get an Ice Cream Sandwich update so I'd say it's more than likely that the Slider will feel the love too. Of course this assumes that the ICS Flash player arrives in good order. If it doesn't I can see little reason to upgrade.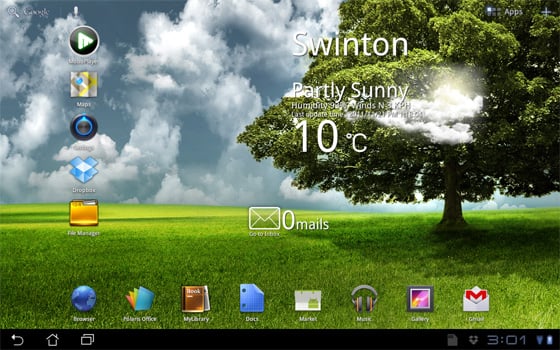 Desktop real estate
When it comes to battery life the Slider like the Transformer is one of the more impressive Android tablets. Loop a video and the Slider will die in around five and a half hours. Stick to working on a document, listening to music or browsing the web, and you can get to the eight hour mark without difficulty.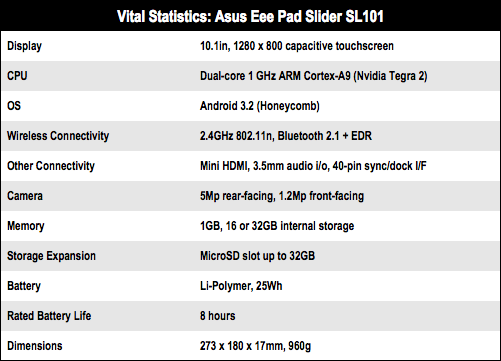 COMMENTS
Come Back Psion Series 7/Netbook!
no track pad, check - touch screen, check - colour, check, screen half across keyboard, check
I guess 2001 was just too early!
Hmm
Android is interesting, but can this thing run full-on GNU/Linux?
The legendary folks over at xda-developers have got ubuntu running on the transformer (the slider is very closely related).
The big problem is that nVidia have only released drivers for an out of date version of X and as a bonus they are buggy as an overcrowded ant hill....
It would certainly make it more interesting
The basics probably work, but I've not heard of anyone trying. The main problem is that nVidia haven't seen fit to provide a linux driver for the GPU, so you're left with an unaccelerated framebuffer. If they'd used OMAP 4 it would be another story!
from the author....
@bigphil9009 - it's the built-in reader app. It's called Asus MyLibrary. If it's a re-brand of another ereader app it's not one I'm familiar with. It is very good though.
@ Craig12. H.264/MP4 files will play at 1080p but, MKV, AVI and WMV files will only play at 720p. That's from a combo of MoboPlayer, V Player and the stock video player.
@ jedit. I think you underestimate the potential. I took the Slider down the London for a day of meetings last week and the option to either use it as a regular tablet or set it up on a desk to bash away at my mails came in very handy. It's the first tablet - iOS or Android - I'd actually consider buying because it could earn it's keep at work and replace my netbook.