Inside the BBC's R&D Labs
From the Lab to the living room
Listen with Mother
One of those is RadioTAG, which can use the internet to deliver additional data alongside a broadcast, whether DAB or FM. Besides enhancing the limited slideshow features of DAB, RadioTAG – which I saw working on a specially modified Revo Axis receiver – can allow immediate interaction with the programme, whether that's by buying the record that's playing or, as in the BBC's demo, bookmarking a live broadcast which can then be resumed in iPlayer – a sort of 'follow me' for radio.
RadioTAG has already won awards, and the BBC is working with companies like chip-maker Frontier Silicon to ensure it's supported in future chipsets used for digital radio.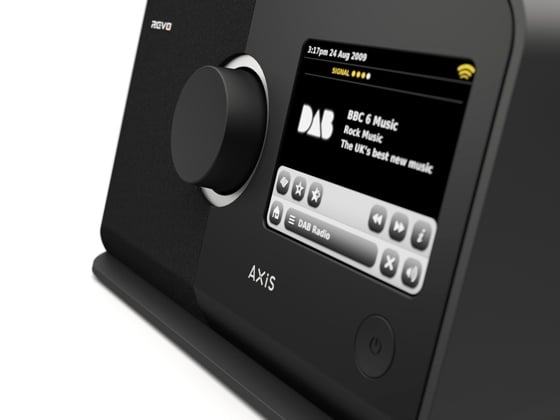 Thanks to RadioTAG, just press a button when you leave home, and pick up the programme from the same point on iPlayer later
When most people think about hybrid TV, it's services like iPlayer they're considering. But one of the impressive demos in the lab allows for an extra soundtrack to be delivered over the net and perfectly synchronised with a live broadcast.
How about an alternative version without incidental music, for example, but still perfect lip sync? The technology can potentially open up a whole new market too, as the audio can come from anywhere. It would be possible for a third-party to provide, say, a Polish soundtrack to Doctor Who that syncs perfectly with the live broadcast.
Talking heads
Many of us have probably had a sinking feeling when, watching a programme about a subject dear to our hearts, exactly the same clip that we've seen in every other programme is used. One of the projects in the Lab might help make that less common. By capturing all the subtitle information from the DVB streams – the last four years' of broadcasts are included so far – it's possible to search a huge amount of material to find any mentions of a subject, then view the relevant clip and, eventually, producers will be able to use the system to include it in their own programme.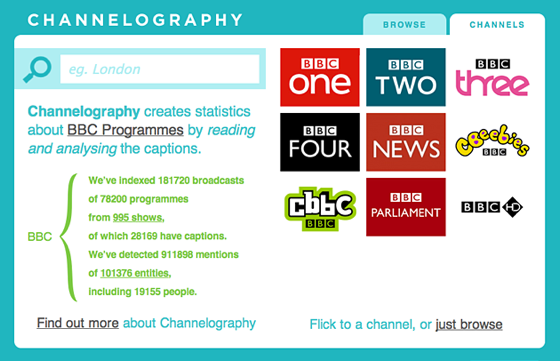 Subtitle analysis is also helping to find interesting patterns in broadcast content. It's no surprise that in 2010 London was the most mentioned city on the BBC. Break that down by population, however, and it merited a mere 1.03 mentions per 1000, compared to 3.19 for Bath.
Evidence, perhaps, of a West Country bias?
More seriously, this sort of analysis – called Channelography by the Lab – can help give a more detailed overview of what's actually broadcast than, say, the synopses in Radio Times. Another project aims to help classify archive material based on the moods evoked by the music.