Microsoft renovates Xbox Live dashboard
Tiles R us
Microsoft has officially announced a significant overhaul of the Xbox Live dashboard, introducing a host of new content as well as voice control and gesture features for the Kinect peripheral.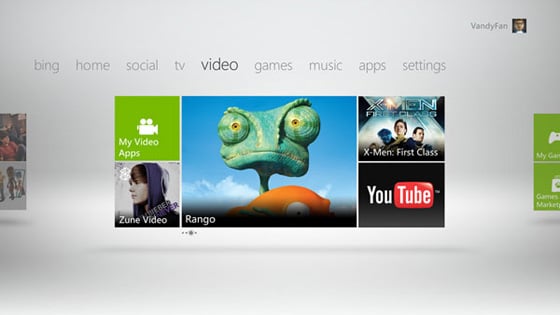 The update, which adopts the tile-like design of Windows 8, tables cloud-storage functions for save games and profiles, Facebook sharing and "enhanced family settings". There's much deeper Kinect integration too, with the anticipated introduction of gesture and voice control.
Then there are additional customised apps for television, internet, sports and music and just as expected, services such as BBC iPlayer, 4oD and LoveFilm have been added to the roster.
The new Xbox Live dashboard will roll out on 6 December. ®
COMMENTS
Hoho
Now it just looks like Sony XMB except for icons, we have images for each item.
Cloud storage for save games?
Given that save games seem to be using more and more space (I may be wrong but some new games insist on having a hard drive as the save games are so large) surely waiting for 30 minutes at a checkpoint whilst it frantically tries to upload my progress using BT Broadband is not a good idea?
As much as I like using my 360...
...I do wish Microsoft would stop changing its UI all the time.
Tweak it, improve it, speed it up, sure, but enough with the constant overhauls!