The Legend of Zelda: Skyward Sword
Gripping Link
Gripping the sword
TFi is housed within Link's sword, which brings us swiftly back to those one-to-one controls, much publicised and ultimately worth the hype... just. Though responsive and attuned to the player's style when exploring, swordplay is still limited in its freestyling, as blows – however cunningly aimed – are reduced to preordained horizontal, vertical and diagonal swipes.
That said, forward thrusts are nicely implemented, particularly satisfying when a spinning Skulltula's weak belly is mercilessly exploited.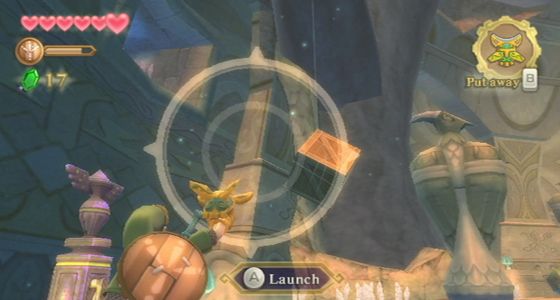 Flicking boxes
Encounters with enemies capable of defending themselves prove to be a mixed bag too. An early boss, for example, has the player feint in one direction, before attacking from another. It's good on paper but sluggish and unauthentic in practice.
That said, timed counter moves – using sword and shield in tandem – feel great, as does adjusting the direction of a swipe as your enemy's weak point dictates. It's just that the whole system feels like the middle-ground between the usual restriction and complete freedom.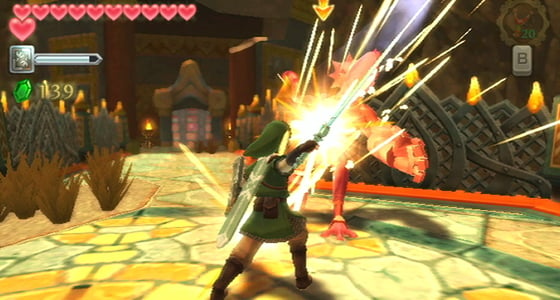 Spark it up
At least Link's reserve of discoverable – and usually upgradable – equipment fares better with the game's constant championing of MotionPlus. Bombs, for example, can now be rolled as well as thrown, a flying beetle can be directed by the tilt of the controller and Link's loftwing mount itself is as much a joy to fly as it is to dismount – Link turning skydiver as he plummets to the surface.
Verdict
Nintendo has produced one of Link's most memorable adventures yet, a rich tapestry of strange characters, memorable locations full of flourish and mischievous bosses. By taking MotionPlus to heart, it has created an interface unlike that of any other game, finally demonstrating what gesture controls are capable of. Yes, there are missteps in the sword play, but most Zelda-lovers will easily forgive that flaw.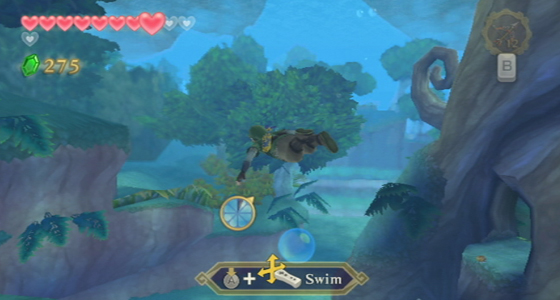 Wish I brought my Speedos
It's just a shame for Skyward Sword that it lands at a time when the Wii is at its lowest-ebb – technologically and in terms of popularity. It's a shame for the Wii too, that a game which finally shows off the console's hidden layers of control comes during its twilight years. ®
More Games Reviews

Assassin's Creed
Revelations
Halo: Combat Evolved
Anniversary Edition
The Elder Scrolls V:
Skyrim
The Adventures
of TinTin
Call of Duty:
Modern Warfare 3
Sponsored: Minds Mastering Machines - Call for papers now open

The Legend of Zelda: Skyward Sword
A swan song for the Wii, a swan dive for Link. Available on Nintendo Wii only.