The Legend of Zelda: Skyward Sword
Gripping Link
Underground slasher
Link is first introduced as a knight-in-training, a premise used to teach us the basics of sword swinging, his new-found athletically prowess – which sees him leaping and climbing – and the handling of his trusty crimson loftwing bird. Before long, Zelda – here an object of his affection – is taken away, this time plummeting to the land below. As legendary hero made incarnate, Link is laden with the burden of finding her - did anyone say the word 'dungeon'?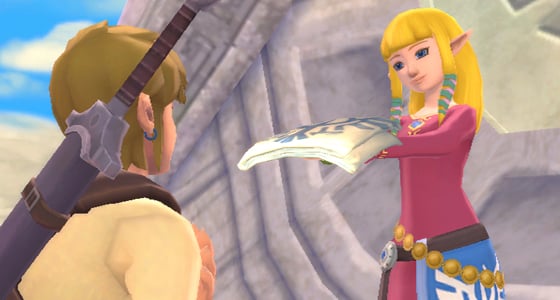 Just in case you get blood on your shirt
Oh yes, you'll soon be in familiar dungeon exploring territory, even if here there's a tendency for such dens of corruption to be hidden in open-plan environments which must themselves be explored, and their puzzles solved, before the dungeon proper is finally revealed.
Brilliantly imaginative, these new entries into Zelda lore are as fiendishly designed as ever, forcing players to use their brain as much as Link's brawn.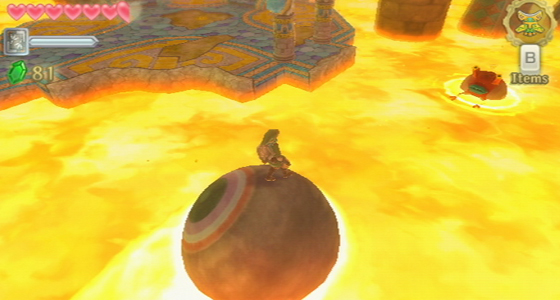 Having a ball
As is generally the case across the series' entries, Link is granted access to an ever widening assortment of gadgets, and it's to the developer's further credit that these are referenced beyond the initial environment they're found in. They are often required in later dungeons, or else elsewhere around Skyloft, ensuring the player must be ever aware of all the tools available, and providing a fair share of "Eureka!" moments.
Thankfully, Link isn't alone at times of strife, as Fi, a robot-voiced font of all knowledge, is constantly on hand to guide and inform – think Ocarina's Navi the fairy. Fi is a constant flea in his ear, letting us know pertinent developments, speculating on enemy weaknesses and even telling us when the batteries in our Wiimote need replacing.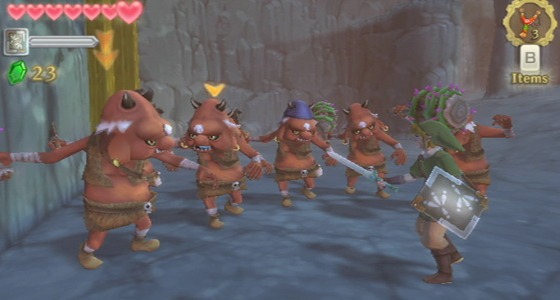 Ring a ring of gross things
Fi's other function is in the new dowsing system, where Link can set his sword to look for certain characters – usually, but not always, Zelda – and even items such as restorative hearts and so forth. A strange addition you might think, but one useful in Skyward Sword's more complicated locations which might lead the unwary traveller astray.
Sponsored: Minds Mastering Machines - Call for papers now open