Pickles plans curry colleges to halt Indian immigration
Training British chefs to replace non-locals
The conservative UK secretary of state for communities and local government, the Rt Hon Eric Pickles, has plans to build a "curry college" to teach unemployed British youth how to replace cooks formerly hired from the Indian sub-continent.
The planned culinary academy is designed to teach British people how to master Indian and Asian cuisine, now that the Home Office is being increasingly tight-fisted about providing working visas to immigrants from Bangladesh, India, and Pakistan. Pickle's project is based on the current Conservative government policy, which states that "we do not need to attract people to do jobs that could be carried out by British citizens, given the right training and support."
Pickles is obviously a man who cares deeply about his food, as his most recent Twitter picture-post (his only one in the last six months) shows: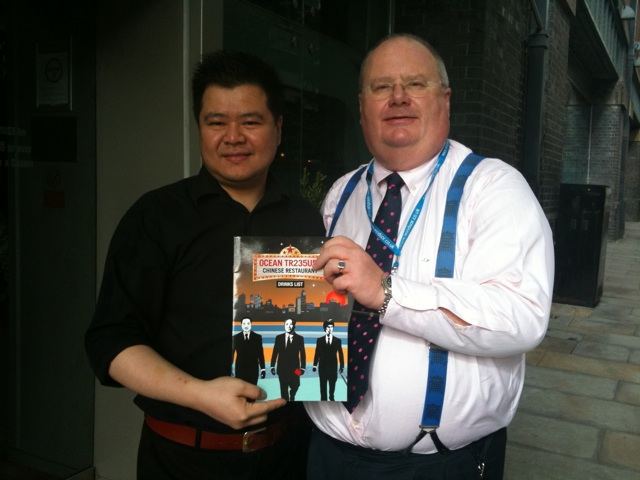 Eric Pickles picks up an evening's culinary delight
One hopes Pickles didn't take Rowan Atkinson's Tory immigration parody seriously. Teaching British chefs to match the culinary skills of the local takeaway may well be possible, but for those of raised on 1960s-era British curry, with apples and sultanas – dried fruit to you stateside Reg readers – mixed into a watery gloop with homeopathic levels of spice, it's not a pleasant thought.
That said, chicken tikka masala is possibly a British invention, according to a 2009 early day motion put before Parliament to grant Glasgow European Union Protected Designation of Origin for the dish.
Strange that the macaroni cheese pie and deep-fried Cadbury's crème egg weren't also included in the motion.
You can chortle all you like about the curry college, but it's part of a larger move to seriously restrict foreign immigration into the UK – provided you're not wealthy and willing to let a little of that trickle down into the local economy, notably the housing and luxury goods markets.
For the rest of us, we're going to have to stagger a little further for a good post-pub feed. ®
Sponsored: Minds Mastering Machines - Call for papers now open