Hidden talents
When shooting stills, the J1 provides automatic, semi-manual and manual modes providing full creative control over your photography. Unfortunately, none of these modes are made readily accessible to the photographer. On a traditional DSLR you would be able to switch easily between, say aperture priority and shutter priority with a simple twist of the mode dial.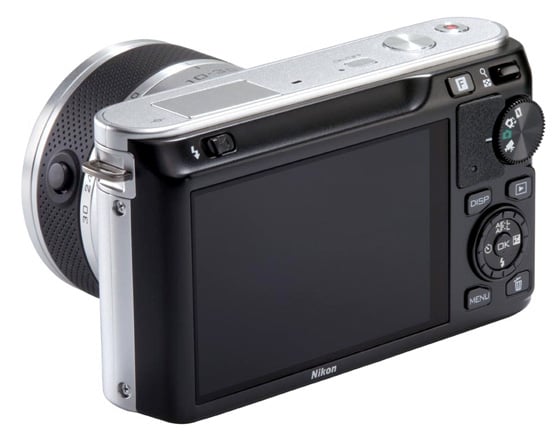 A dearth of dials means that tweaks are menu driven
The J1's mode dial however is disappointingly sparse – only four positions are available: The Motion Snaphot and Smart Photo Selector modes are given pride of place on the first two, with the fourth given over to video. This leaves just one position for stills, meaning you'll have to delve into the on-screen menus to change parameters such as ISO, white balance, focus mode or shooting priority modes. Even the five available scene modes aren't individually selectable. The 'Scene auto selector' mode just picks the best one for you automatically.
There's plenty of space left on that mode dial for PASM settings, and the fact that Nikon has chosen not to include them hints at the kind of photographer they're expecting to buy the J1. Similar small-bodied cameras such as the Olympus PEN mini also omit such functions, but the Olympus camera doesn't have a mode dial at all. The simple addition of a few extra clicks round the dial would have transformed the J1 for the enthusiast.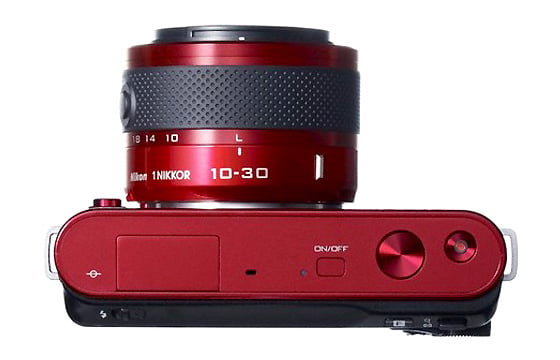 Not much going on here
A context sensitive function button gives you quick access to continuous shooting options for stills, HD or slow motion for video or the selection of music in Motion Snapshot mode, While a four-way cursor pad with combined adjustment wheel lets you select self-timer, flash, exposure compensation and AE-lock options.
Although separate shutter release and video recording buttons are provided, you can't be in a stills mode and simply press the record button to start capturing video. Instead, you must turn first turn the mode dial to video mode. If you're already in video mode and you want to take a still, you can press the shutter release button to grab a still in the same resolution as your currently selected video mode.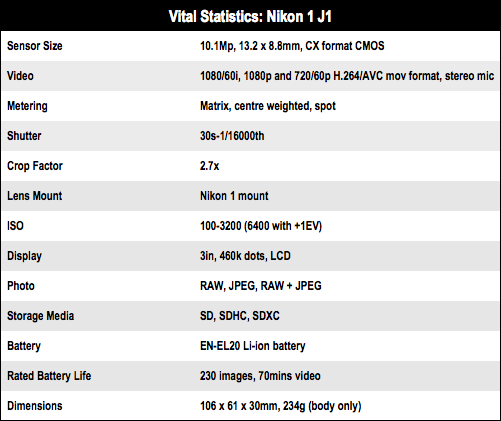 COMMENTS
"the J1's Smart Photo Selector mode is able to automatically analyse and compare twenty such shots, picking the best five for you based on facial expression, composition and focus."
That is just awful. Death of photography, anyone?
Thanks for the review
When I initially saw the J1, I was really thinking I shouldn't have bought my Oly XZ-1. After reading your review, I'm quite happy I did. I really don't know what this offers that the XZ-1 doesn't - interchangeable lens, but there aren't that many to choose from, and the 4x zoom range of the XZ-1s is pretty functional. And the quality is right there too. Except that I really can pocket the XZ-1, unlike the J1..and it has a working PASM dial.
Here here
So it pre-empts your shutter release, decides how many shots to take, and then decides which ones your going to keep.
I always knew these premium "point-and-shoots" were aimed squarely at the spray and pray crowd but this is really taking it to new levels, I wouldn't be surprised if the camera started demanding a photography credit next.
To name a few
I'd say the Micro 4/3 range from Panasonic and Olympus would be my number one choice. Sony's new range is also pretty good. Samsung and Pentax also have some offerings.
The micro 4/3 stuff has been around long enough for there to be a decent range of bodies and lenses, including third party offerings and there's a good second hand market. There are also two large manufacturers supporting it, so it won't be going anywhere any time soon. Sony is probably the next best to my mind, but because they've gone for a fancy large sensor (APS-C) the lenses are pretty big. The other two have okay devices, but they're small, closed systems which might simply not exist in a few years.
Samsung NX
Samsung have the best system in this market segment, at least for my needs.
Their NX range has an APS-C sensor, the same size as a DSLR (except for full-frame models of course). This gives it an advantage over the m4/3 crowd in terms of image quality and DOF control, and puts it on a par with Sony's NEX range.
Most importantly, unlike Sony they have a great collection of high quality, wide aperture prime lenses, which are compact enough that you can actually slip the camera into a coat pocket with a lens attached. I carry my NX100 everywhere, whenever I can't be bothered to lug around a bag with my DSLR. Their new NX200 is even more desirable, but the NX100 is a real bargain right now.
Now if only Samsung's marketing department would work as hard as their technical department, and actually tell people that these cameras exist!