Nikon 1 J1 interchangeable lens compact camera
Late to the party and making a scene
Review Somewhat late to the game, Nikon has finally released its Nikon 1 range of compact, mirrorless cameras which use a new CX-format sensor and a range of interchangeable lenses.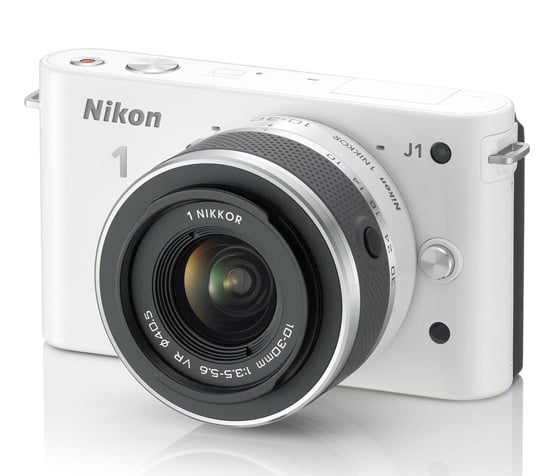 The J1 model is currently the entry-level Nikon One camera
The Nikon 1 range currently comprises V1 and J1 variants. Excellent build quality and high price place both firmly at the luxury end of the market, but it's the smaller J1 which is the subject of this review. While the cameras share a mostly identical set of features, the J1 offers a lower resolution screen, loses the V1's electronic eye-level viewfinder and multi-accessory port, but gains a built-in popup flash. The J1 also lacks the mechanical shutter found on the bigger model.
Not having an electronic viewfinder may not bother some users and the lack of multi-accessory port means you can't take advantage of the external flash or GPS modules designed for the Nikon 1 system. However, these relatively minor differences will save you almost £300 making the J1 considerably better value for money.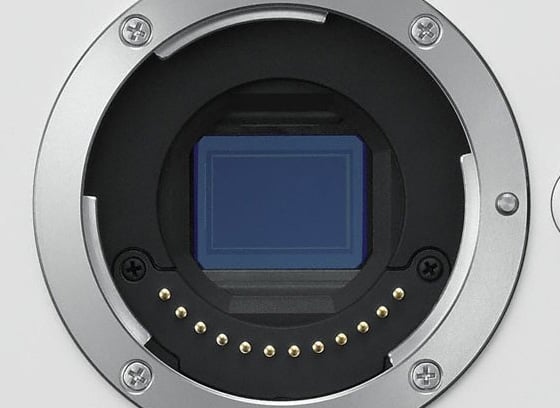 Yet another format: Nikon's CX sensor has a 2.7x crop factor
Both models offer speedy operation, a super-quick start-up time and fast multi-point autofocus as well as the ability to capture full-resolution images at up to 60 shots per second. A pre/post capture system allows the J1 to start capturing images before you fully press the shutter button and then continue afterwards. These incredibly fast frame rates are matched with a buffer large enough to accommodate up to 100 shots.
This isn't a new idea: my Sony DSC-F1 could do this in 1996 albeit with VGA-resolution images, but the J1's Smart Photo Selector mode is able to automatically analyse and compare twenty such shots, picking the best five for you based on facial expression, composition and focus.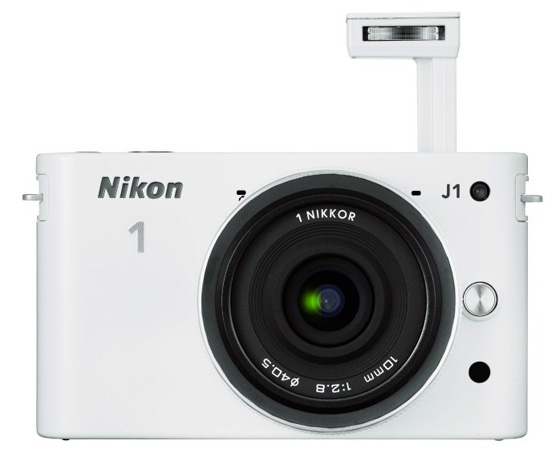 Built-in flash but the J1 has no sync contact for external guns
Another unique feature is the camera's Motion Snapshot mode, which combines a one-second slow-motion clip of video with each photo, complete with incredibly cheesy music composed to evoke feelings of "Beauty", "Waves", "Relaxation" or "Tenderness". It's a fun feature, but more often than not, this gimmick results in an unexpectedly hilarious juxtaposition. Also available is HD video recording at resolutions up to 1080p at 30fps with additional slow-motion modes available which capture at 400fps or 1,200fps.
COMMENTS
"the J1's Smart Photo Selector mode is able to automatically analyse and compare twenty such shots, picking the best five for you based on facial expression, composition and focus."
That is just awful. Death of photography, anyone?
Thanks for the review
When I initially saw the J1, I was really thinking I shouldn't have bought my Oly XZ-1. After reading your review, I'm quite happy I did. I really don't know what this offers that the XZ-1 doesn't - interchangeable lens, but there aren't that many to choose from, and the 4x zoom range of the XZ-1s is pretty functional. And the quality is right there too. Except that I really can pocket the XZ-1, unlike the J1..and it has a working PASM dial.
Here here
So it pre-empts your shutter release, decides how many shots to take, and then decides which ones your going to keep.
I always knew these premium "point-and-shoots" were aimed squarely at the spray and pray crowd but this is really taking it to new levels, I wouldn't be surprised if the camera started demanding a photography credit next.
To name a few
I'd say the Micro 4/3 range from Panasonic and Olympus would be my number one choice. Sony's new range is also pretty good. Samsung and Pentax also have some offerings.
The micro 4/3 stuff has been around long enough for there to be a decent range of bodies and lenses, including third party offerings and there's a good second hand market. There are also two large manufacturers supporting it, so it won't be going anywhere any time soon. Sony is probably the next best to my mind, but because they've gone for a fancy large sensor (APS-C) the lenses are pretty big. The other two have okay devices, but they're small, closed systems which might simply not exist in a few years.
Samsung NX
Samsung have the best system in this market segment, at least for my needs.
Their NX range has an APS-C sensor, the same size as a DSLR (except for full-frame models of course). This gives it an advantage over the m4/3 crowd in terms of image quality and DOF control, and puts it on a par with Sony's NEX range.
Most importantly, unlike Sony they have a great collection of high quality, wide aperture prime lenses, which are compact enough that you can actually slip the camera into a coat pocket with a lens attached. I carry my NX100 everywhere, whenever I can't be bothered to lug around a bag with my DSLR. Their new NX200 is even more desirable, but the NX100 is a real bargain right now.
Now if only Samsung's marketing department would work as hard as their technical department, and actually tell people that these cameras exist!