Some go gracefully in the Channel - and some go messily
Some don't pick up revolver left tactfully on the desk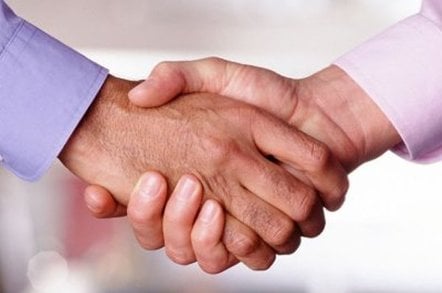 Liquidators of defunct reseller Skye IT have confirmed to El Reg that the firm ran up massive debts of £1.9m.
As revealed last month, the Chelmsford-based dealer decided to call it a day after encountering insurmountable cash flow difficulties and laid off all 40 staff.
A meeting of creditors was held at the London offices of RSM Tenon on 15 November as the firm began the formal administration process. RSM Tenon confirmed to The Register that there are 130 creditors with liabilities totalling an estimated £1.9m.
"Unfortunately we cannot at this stage give a view on the prospect of a return to creditors as we are still in the process of reviewing the company's records with a view to selling its assets as soon as possible," said an RSM Tenon spokesman.
The Royal Bank of Scotland provided an invoice-discounting service for Skye IT and will stake its claim for the book debts.
But the reseller had few other assets to sell, save for some office furniture, and it is highly likely distributors will be left out of pocket as suppliers were not covered by credit insurance, say sources.
Tough time for disties
Several other small resellers have also gone the way of the dodo this week - but at least two firms, Profile IT and SHD Technology, will not leave a string of angry creditors in their wake.
Paul Russell, boss at HP, Cisco and NetApp reseller Profile IT, said he has stopped taking orders and was winding up the business. He said there was a "bunch of reasons" why it was closing but refused to expand on them.
"We are not going into administration or [seeking] insolvency, everyone will be paid - both staff and suppliers - and all contracts and commitments will be honoured," he told The Register.
The firm started 22 years ago, and in abbreviated accounts for the year to 30 April 2010, Profile had net assets of £1.1m, down from £1.4m a year earlier.
South coast-based SHD Technology also ran into cash flow woes after nine years of trading, said Steve Gould, managing director, who added that it decided to stop trading rather than amassing huge debts in the channel.
Business advisory service ChannelMoney has been appointed to liquidate the business, and founder Nitin Joshi stressed that current indications were that there should be a "substantial surplus" left from the book debts.
"According to present indications a dividend will be paid to creditors which is great news," Joshi told The Reg. ®
Sponsored: Minds Mastering Machines - Call for papers now open