Henge Docks Docking Station
Low-cost cable holder for your MacBook
Accessory of the Week It's less technically sophisticated than the Techne Byte-Dock port replicator we reviewed recently, but the Docking Station from Henge Docks is a darn site prettier and a lot less expensive.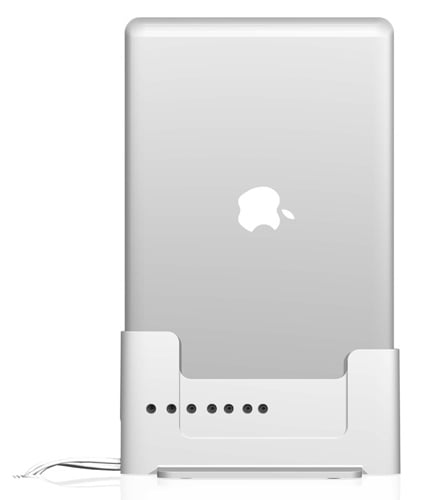 Sold here in the UK by MobileFun, the Docking Station is available in several sizes to suit everything from the now-discontinued 13in plastic MacBook through to the latest 13-, 15- and 17in MacBook Pros. Prices start at £30 for the old MacBook version, but the Docking Station required for my 15in unibody MacBook Pro comes in at £80.
The pristine white Docking Station certainly looks more attractive than the hulking black lump of the £150 Byte-Dock, current on sale for £100. I'd have preferred it if the moulded plastic were a little more rugged and weighty – a 15in laptop turned up on its side doesn't have a terribly stable centre of gravity – so it's probably a good idea to keep it in a quiet corner where no one is likely to bump into it accidentally.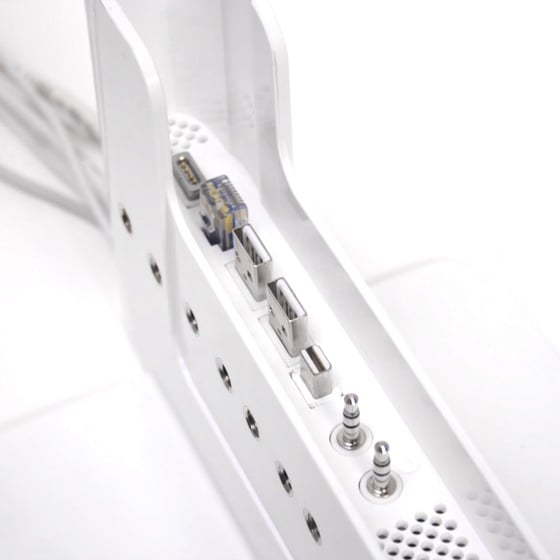 The lower cost of Henge's offering is due to the fact that it lacks the pass-through ports of the Byte-Dock. Henge's approach is simply to drill a bunch of holes into the base of the Docking Station so that you can insert whatever cables you need and just connect them directly to the ports on the MacBook itself.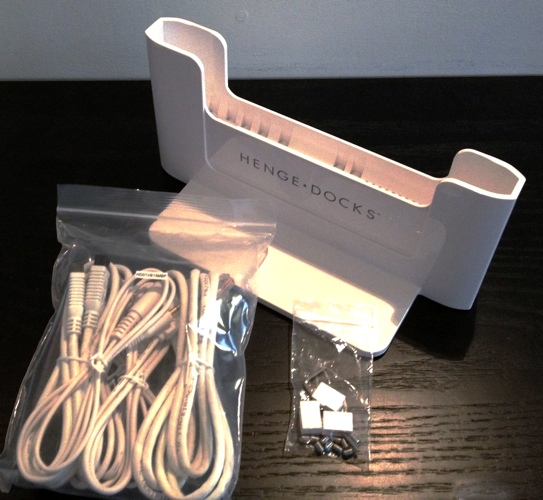 That said, the dock comes with a set of screws that can be used to fix these cables permanently in place if you want to.
Henge thoughtfully includes a set of matching white wires with the Docking Station, including USB, Firewire, audio and Ethernet cables, as well as a little adaptor for the MacBook's Magsafe power cable.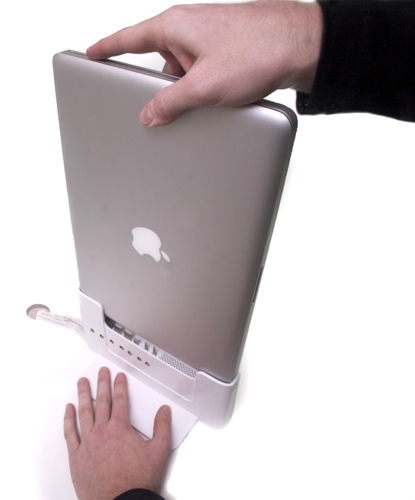 It's certainly a more low-tech solution than the Byte-Dock approach, but the neat design of the Docking Station matches the minimalist aesthetic of the MacBook range and will certainly appeal to Apple laptop owners who use the laptop as their main computer at home or in the office. ®
Thanks to MobileFun for the review sample
Reg Hardware chooses its Accessory of the Week every Friday. Got one in mind you want us to consider? Please let us know
More Accessory of the Week Winners

Logitech
TouchPad
Belkin
Chef Stand
and Stylus
Surc remote
control case
LG LSM-100
mouse
scanner
Belkin
Conserve
COMMENTS
Byte-dock
Isn't the Byte-dock £99.99 now? The difference in price is not that far away!
"Darn site"
Shouldn't that be "darn sight"?
Yes they are I am just waiting for my 3rd one to turn up for the office. IMO (and I can say this as I have owned both, the Byte-dock and the Hengedock) I find the Byte-dock of much better build quality and support my Macbook much better than the henge ever did. I will from now on always go for the Byte-dock as with the price drop (which I see has not been mentioned in the story on here) it is a much better option.
Thanks G
Why buy one? A MBP gives you options that a Mac Pro does not; you can take it out when you really need a computer with you.
However using a laptop for any length of time is not the best thing for your posture, and the screens (good though they are) are not that great. The resolution is too low and the colour accuracy / brightness mean that they cannot be used for production work.
The dock turns a MBP into a slim-line desktop replacement nicely, and it stull goes like s**t off a shovel and out performs most desktops I also have the misfortune to use.
As for external screens; having used two that were different sizes / resolutions / colours or far apart from one another before, it was hell. From now on only matched screens, butted together, thanks.
Erm .. why?
Why would a dock that stops you using the MBP screen be of any use to anyone? The advantage of plugging in an external screen is to get more screen real estate, this immediately gets rid of some of that advantage.
Only to be bought by people with truly more money than sense.