Ten... remastered videogame classics
Old favorites get a facelift
Tomb Raider Trilogy

Lara Croft returns bosoming with pride, in an excellent chance to revisit second-gen Tomb Raider titles in HD grandeur.
Buzz Monkey Software focused its efforts on Tomb Raider: Legend and Tomb Raider: Anniversary – both polished with 720p graphics. The set also includes 2008's Tomb Raider: Underworld, though that was originally launched in HD anyway.
New features include the standard PSN Trophy support, plus various related avatars, and a couple theme packs for good measure.
The transition to HD is smooth and picking up all three games for such a low price shouldn't be sniffed at. If you're into games à la Uncharted and Just Cause, then this will be right up your alley. Use Ms. Croft's tools and skills to explore dangerous tombs, tackling traps and tricky puzzles along the way.

Reg Rating 80%
Price £12
Platform(s) PS3
More info Tomb Raider
Tom Clancy's Splinter Cell Trilogy

Another compilation of HD remasters for the PlayStation 3 sees the critically acclaimed Splinter Cell revisited with graphical enhancements.
The more elaborate PC versions of Splinter Cell, Splinter Cell: Pandora Tomorrow and Splinter Cell: Chaos Theory are all available on this one PS3 disc.
As with other Ubisoft refurbishments, they only run in 720p with 30fps graphics, but nevertheless look superb and a serious step up from the PS2 originals. Cutscenes have been left intact, though, and do show their age, but the addition of 3D support and PSN Trophies is certainly welcome.
Chaos Theory looks particularly impressive and even though all multiplayer aspects have been discarded, the single-player campaign is as gripping as ever.
If you're into stealthy adventures and have never tried SC, then you're missing out. Play as NSA Third Echelon operative Sam Fisher as he keeps to the shadows and uses an array of top tech in order to complete his various missions. It's neck-snappingly brilliant and well worth a look. ®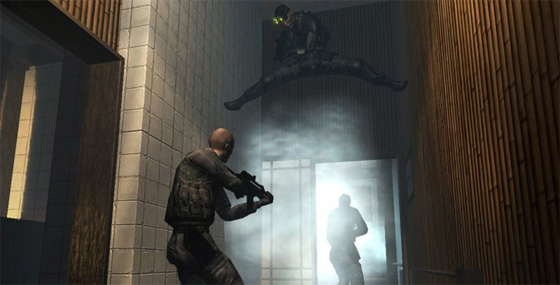 Reg Rating 85%
Price £15
Platform(s) PS3, PC
More info Ubisoft
Sponsored: Minds Mastering Machines - Call for papers now open