Couple rewarded for naming newborn after Elder Scrolls Skyrim hero
Games for life, baby
Earlier this year, Bethesda made a tongue-in-cheek proposal to pregnant mothers: if your child is born on Nigel Tufnel Day, the same date that Elder Scrolls V: Skyrim was released, then name your nipper 'Dovakhiin' after the RPG's protagonist and you'll win free games for life.
American couple Megan and Eric Kellermeyer did exactly that after their son was born on 11 November 2011.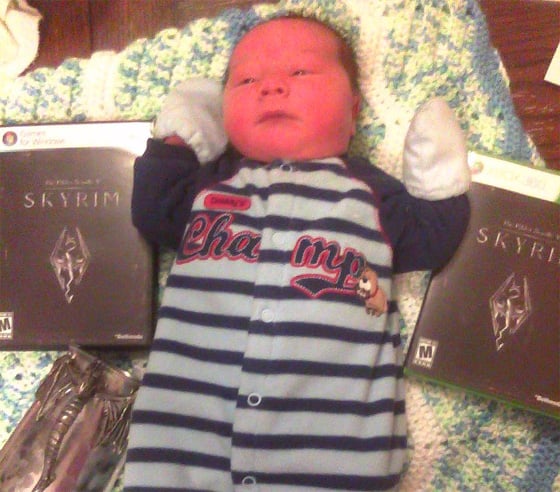 Respect your Elders, boy
As a bunch of avid gamers, the couple were delighted to not only have a beautiful new addition to the family, but the bonus of free Bethesda games for life too.
"I am so picky about boy names that I was having a lot of trouble finding just the right one," said the proud mother on the couple's blog site.
"We've toyed with Dovahkiin and the ramifications of naming a child that name, and that name being based on a videogame character (however awesome), and what impact that would have on him."
"The more I thought of it, the more I settled on Dovahkiin, contest or no," she added.
So, please welcome to the world, Dovahkiin Tom Kellermeyer.
There are plenty of worse names for a child, of course, and Dovahkiin, which means 'Dragonborn' in Skyrim's reptilian language, will certainly make the child stand out at school. Kids wont be laughing when he waves his free copies of Elder Scrolls 6, 7, 8 and 9 at them, though.

Will he grow up to look like this we wonder?
Bethesda was quick to congratulate the family.
"Be it the real world or the game worlds we create, we wish young Dovahkiin the best in all his adventures. And if Alduin ever reaches this realm, we'll be in touch."
Geeky parents have a tendency to name newborns after obscure obsessions. Earlier this year one Egyptian couple named their child 'Facebook'. Brings a whole new perspective to being poked in class, eh? ®
Sponsored: Minds Mastering Machines - Call for papers now open