Sony HMZ-T1 3D head mounted display
Strap-on movies for your pleasure
Game over?
Initially, I thought that the HMZ-T1 would also be ideal for gamers – until I tried it and quickly realised that wearing the headset meant I couldn't see the controller in my hands. If you can use a gamepad without looking it at, you might be fine – but I was hopeless. The headset is probably best thought of as a passive entertainment device.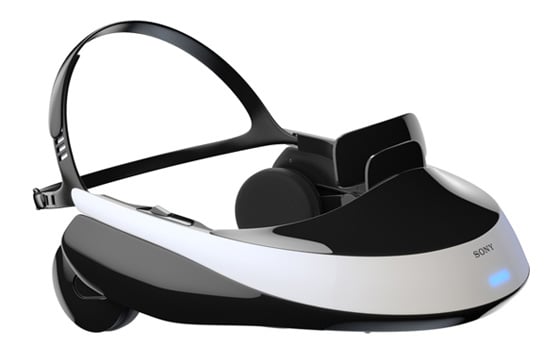 Passive viewing?
Sony hasn't wasted the opportunity to integrate quite a decent sound system into the HMD. I found its audio performance nearly as immersive as its video. Over-ear headphones deliver faux 5.1 signal processing which is rather effective. You can choose from four presets: cinema, game, music and standard. The system goes loud and yet remains clear, with definite wraparound image placement.
Ultimately, it's difficult to know where the HMZ-T1 is going to take Sony. Certainly the engineers I've talked to who are involved in the project are already talking about second generation improvements which will see the size of the optics and associated electronics reduced, thereby making the entire headset rather more manageable. So I guess that at least means there's a development road map.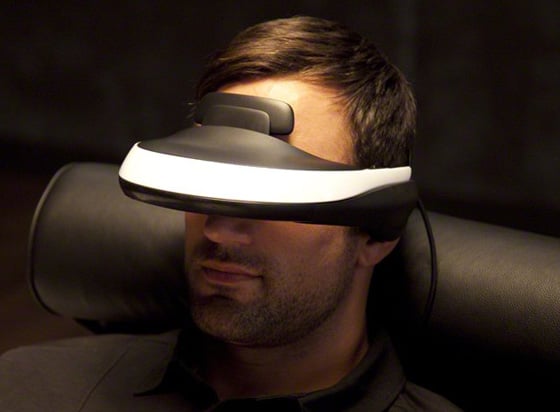 Stay in your seat and everything will be fine...
Verdict
As a 3D viewer today, it's an interesting (albeit expensive) alternative to regular stereoscopic TVs. 

Indeed, if it weren't for the eyewatering price, it would have a much higher rating. Yet purely from a brand point of view, I think its good to see Sony back with some new iconic technology – there's been a gaping void since Aibo the robot pooch was unceremoniously put down. The HMZ-T1 may have a whiff of folly about it, but the smell is curiously sweet. ®
More AV Gear Reviews

Samsung
PS64D8000
64in plasma 3D TV
Yamaha
RX-V471
AV receiver
Ten... Blu-ray
disc players
Sony
BDP-SX1 portable
Blu-ray player
Toshiba
Regza 47VL863
Sponsored: Minds Mastering Machines - Call for papers now open

Sony HMZ-T1 3D head mounted display
Expensive 3D goggles that take the place of the gogglebox.