Acer Aspire S3 Core i7 Ultrabook
First among equals?
Key concerns
Unfortunately, the keyboard doesn't fill me with so much joy. It feels cramped and some of the important keys have been reduced to ridiculous proportions. I hate it when the Ctrl key is no bigger than other keys, for example, and the cursor keys are impossible to locate by touch: all four directional keys plus PgUp and PgDn together can be hidden under the pad of my thumb.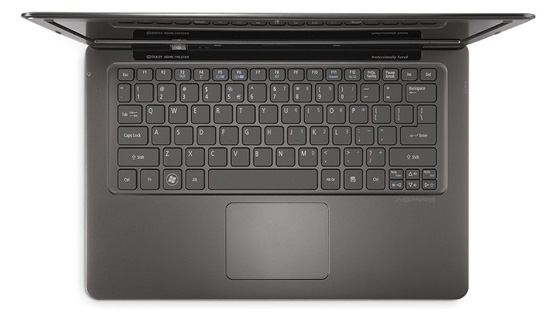 The one piece trackpad functionality needs refining
Another unexpected annoyance is the trackpad. It's one of those new types that you press down to produce a mouse-click, hence the lack of separate mouse-click buttons. Clicking and dragging is horrible, requiring you to press down hard on the trackpad and squeak your finger unpleasantly across its surface.
If this wasn't bad enough, you can only squeak for a couple of centimetres at which point you have no more trackpad left. Moving an icon from one side of your desktop to another can require several steps: press-squeak, press-squeak, press-squeak. Acer provides a utility for these functions but there's no obvious magnetic click and drag option.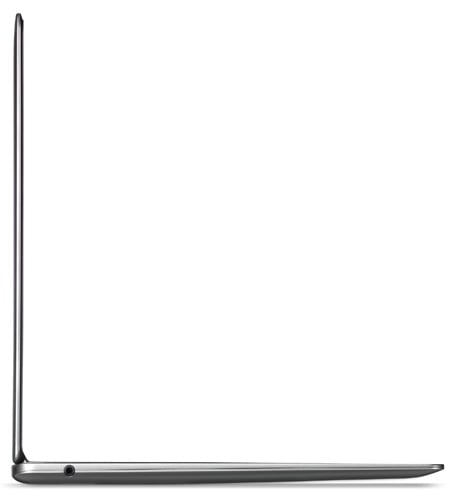 The bulk of the interfacing is at the rear
Nor is there much by way of multi-touch gestures to get around this. The trackpad supports one or two-finger gestures – the latter principally for right-clicking and scrolling – but nothing for 'soft' clicks, sweeps or special shortcuts. Even the two-finger scroll action failed to work half the time. After a while, I couldn't stand it any more and plugged in a mouse, whereupon I enjoyed using the S3 a great deal more.
I wish it had been as simple to stop the loud fan noise and high-pitched whistling that the computer makes when it's churning away. I share an office, and my office partner complained that the sound was "disagreeable".

The lid stays closed magnetically without the need for a clumsy clasp

Only the bare minimum of ports here at the thick end of the wedge
You only get two USB 2.0 ports and a single HDMI port for video-out, plus a headphone socket, but this is a fair compromise in such a slim computer. I wish one of the USB ports could have supported USB 3.0 but there you go. Also provided is a dual-format memory card slot, supporting SD and MultiMedia Cards. Having an Olympus camera that takes xD cards, this is useless to me but I appreciate the importance of having at least SD Card support.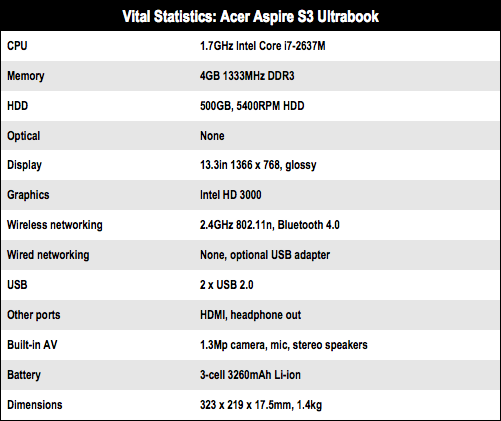 Sponsored: Minds Mastering Machines - Call for papers now open