Bethesda promises fix for Skyrim Xbox graphics glitch
Multi-platform patches coming
Games developer Bethesda insists it will address all reported bugs in Elder Scrolls V: Skyrim through a patch for all platforms.
Despite glowing reviews, a fair few bugs have begun to annoy players.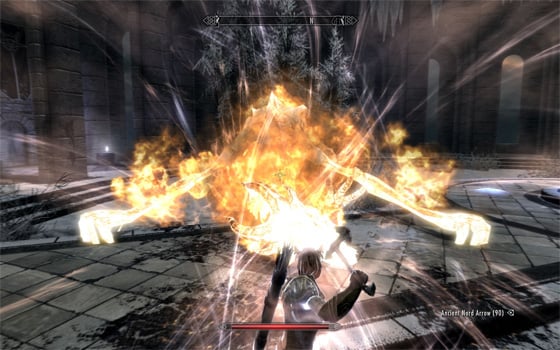 Dealing with the problems
One issue affects those who installed the game on their Xbox 360 consoles: graphics that don't look so hot when the software is run off the machine's hard drive.
"We've seen a few reports of certain textures temporarily scaling down on the Xbox 360, and not scaling back up. We have verified that this issue does not occur when playing off the disk and when the game is fully cached [ie not installed]," the company said on its official forums.
Pete Hines, the company's head of marketing, soon took to the Twitterscape to attempt to ease customers' concerns.
"We are continuing to work on an update for all platforms to address issues any bugs and perf issues we can," he wrote.
While there was no mention of when these updates would surface, in response to worried fans Hines continued: "We can't turn it around quite that fast. It's been three days. Calm down. We're working on it."
While Bethesda is unlikely to address the gripes over Skyrim's user interface, those who experienced glitches, crashes and graphical inconsistencies can rest assured it should be fixed soon.
You can read what we thought about Skyrim here on Reg Hardware. Now go forth Dragonborn and slay some bandits. ®
Sponsored: Minds Mastering Machines - Call for papers now open