Star Wars 3D holo displays becomes a reality
Obi-Wan Kenobi, you're my only hope
Boffins are one step closer to making R2-D2's holographic projector tech a reality, through a 3D display which makes images appear in mid-air with a rapidly moving laser beam.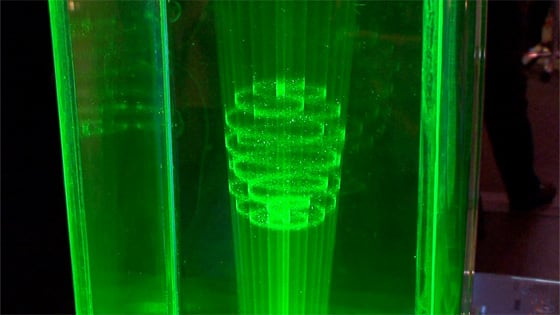 Produced by Japanese outfit Burton and based on developments from AIST and Keio University, the display is able to produce around 50,000 'pixels' per second, with a frame-rate of roughly 10-15f/s.
The team is attempting to raise that figure to 24-30f/s.
The True 3D Display apparently works by focusing laser light to produce plasma excitation from the oxygen and nitrogen in the air, DigInfo.tv reports.
According to those behind the project, it is the world's first piece of kit to display images without the use of a screen. Have a ganders at the video below for further details and a clip of it in action:
The tech was on show at last month's Digital Contents Expo in Tokyo. Now, if they'd just project an image of a Princess Leia in distress, and squash it down to fit inside an Astro droid… ®
COMMENTS
Was that demo...
a frickin' shark?
Yes, nice.
Sharks [drawn] with lasers!!!!!
@Rob
In that case, the vapour/mist act as the screen. The difference is that in such cases, you are artificially adding a component to the ambient in order to reflect the light, which means that the floating aerosol is as important a component as the image source, perhaps more.
Conversely, this new development does not rely on any "screen" component, but purely on the image generation technology and the molecules already naturally available in the environment. This is why it works equally well underwater as in the air.
-dZ.
next on the wish-list
Lightsabre !!
Oh my...
How very, very cool.
One has to wonder, though, what happens if you were to stick you hand in the display, though. :)