Original URL: http://www.theregister.co.uk/2011/11/15/review_motorola_razr_android_smartphone/
Motorola Razr Android smartphone
The best a man can get?
Posted in Phones, 15th November 2011 07:00 GMT
Watch Now : Virtual Machine Movement with Hyper-V
Review Razr, now there's a name for Motorola to conjure with. In its first two years the hugely popular V3 clamshell sold over 50 million units but then Motorola became so dependent on it that when it stopped selling, the company's market share collapsed.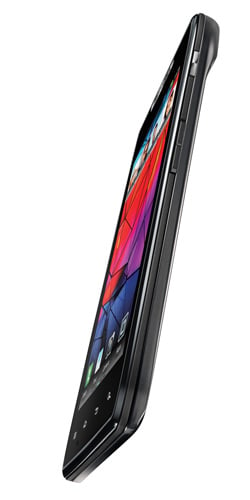 Bristling with features: Motorola's Razr
It's due to its timely embrace of Android that Motorola is still with us, so perhaps it's fitting that the Razr badge should be resurrected at the dawn of Google's ownership. Starting at the front, the Razr's 4.3in 540 x 960 screen is close to perfect. The pixels-per-inch count of 256 can't match the iPhone's 330 but the extra surface area makes all the difference, while the Super AMOLED panel is pin sharp, bright and wonderfully colourful.
Move from front to back and you go from Gorilla Glass to Kevlar. Well known for its bullet-stopping properties, the Kevlar back panel combines with an internal steel backbone and splash-proof body to make the Razr stiff and robust. The back's matt finish also feels warm and pleasant in the hand.

Slim, but tough
Combining that sort of build quality with a thickness of only 7.1mm – OK, it's a few millimetres thicker at the top to house the camera but let's not pick nits – and a weight of only 127g is magical technically impressive.
Indeed, there's something of the Bauhaus about the design of the Razr, as if Motorola got to this shape by default after all the bits were fitted together and then decided to leave well alone. With its ever-so-slightly bevelled ends, the Razr is not pretty like the Sony Ericsson Arc S [1]. No doubt some would even say it's austere but to my eyes it's a functional and handsome looking bit of kit.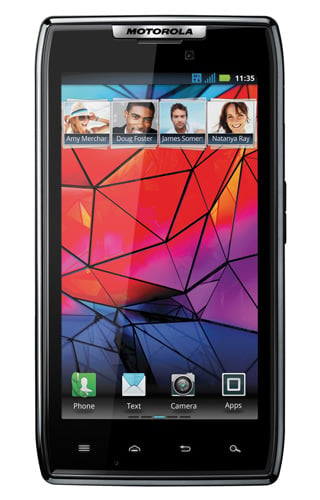 Eclectic Razr
The slimness hasn't compromised the controls one iota. At the top you will find mini HDMI, micro USB and 3.5mm audio ports, while on the right flank sit the volume and power controls. Under a robust flap on the left hide the micro SD and micro SIM slots. Like the Motorola Atrix, this model can be hooked up to a WebTop accessories such as a the Lapdock [2], a full-sized keyboard and screen dock. But alas, the Razr has its own Lapdock 100 [3] rather than shares the optional extras designed for the Atrix.
---
Touch and Swype
Beneath the Kevlar, Android 2.3.5 is running but it's reasonable to assume an Ice Cream Sandwich update will hove into view in early 2012. Processing power comes courtesy of a 1.2GHz dual-core chip with 1GB of RAM. That's a spec that suggests shit off a shovel performance, and the Razr doesn't disappoint. The AnTuTu Android benchmarking score of 6008 is so high, the air around it is thin.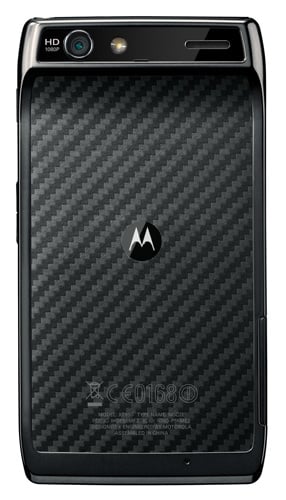 The Kevlar casing has a great look and feel
In real terms this power manifests itself in the effortless playback of 1080p video, the smoothness of graphically demanding games and a UI that slides around under the finger like warm baby oil off the back of a transgender pole dancer.
With luck we've now seen the last of Motorola's Motoblur overlay so the Razr makes do with a light re-skinning of Android's stock graphics, some bespoke widgets and media apps plus a central sign-in facility for Facebook, Twitter, Photobucket, Picasa, Yahoo, Windows Live and the like. All of which ties together your cloud-based media, social network and messaging services.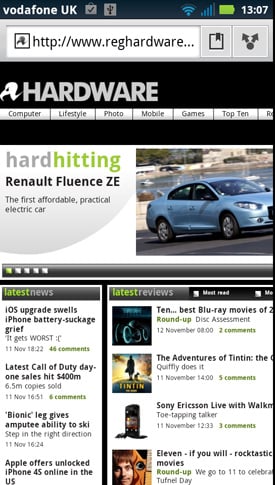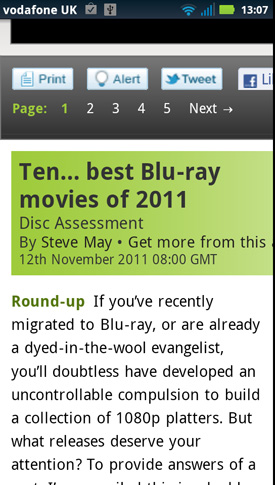 Browser and text reflow
Like a number of recent Motorola 'droids, the Razr comes with the excellent Swype [4] (join the letters) keyboard. You also get something called Smart Actions which can automatically change settings or launch apps depending on the phone's locale or the time of day. The MotoCast [5] remote media-streaming app is worth having too.
According to Motorola, the Razr has 16GB of built-in storage. On my device 8GB was shown free for file storage and 4GB for apps storage. That's more than enough space to keep me happy but it still leaves the best part of 4GB unaccounted for.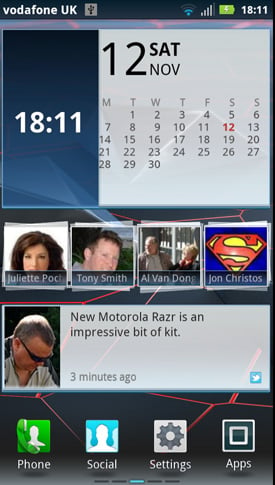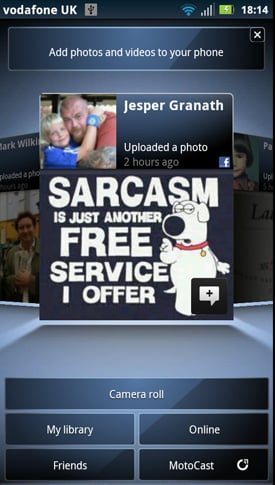 Homescreen and photo uploads
When it comes to cameras you get an 8Mp snapper on the back and a 1.3Mp webcam on the front. The main camera isn't as good as the best from Sony Ericsson but it's more than a match for any HTC 8Mp shooter or the camera on the new Nokia Lumia 800 [6]. Video can be shot at 1080p/30fps H.264 through the main camera and at 720p through the Skype-supporting webcam, which is as good as it gets.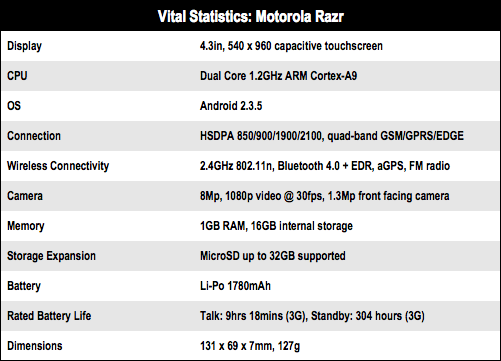 ---
Switch blades?
As with most Motorola Android handsets cellular reception and call quality were admirable. The single speaker that sits next to the camera assembly is also very competent. Wi-Fi reception proved less impressive. My Razr never actually dropped its Wi-Fi connection but it often showed one bar where my Desire HD [7] showed three. Perhaps it was a display rather than a reception issue. The Bluetooth radio is bang up to date though at v4.0.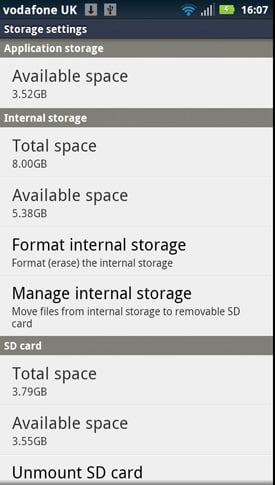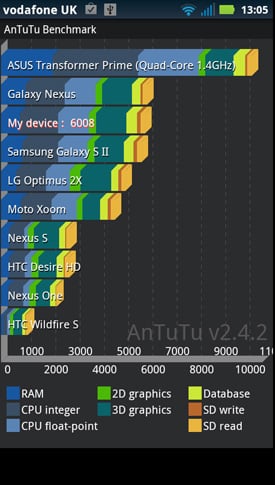 Storage: where did the 16GB go? Flying high in the AnTutu rankings
All this technical magnificence doesn't do much for the battery life. Despite Motorola squeezing a 1780mAh battery into the Razr, I still had to recharge it every 24 hours. That's not unusually bad for a high-end smartphone but nor is it unusually good.
Some of you will no doubt be peeved to learn that the battery is fixed but that's the price you pay for a thin handset. I'm not convinced that the micro Sim card is necessary though, as there is clearly room for a full-sized one. Maybe it's to lure iPhone users to the Dark Side.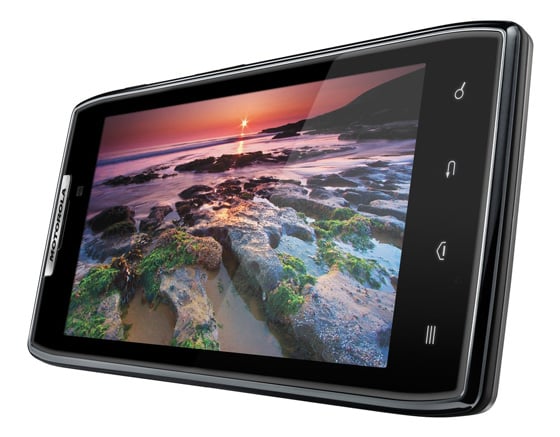 Picture perfect?
With the Galaxy Nexus Prime [8] just around the corner, the Razr's reign may be short lived but the Prime is fatter and heavier and will probably be more expensive so it's not a foregone conclusion.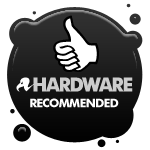 Verdict
At £450 the Razr isn't a cheap phone but it is worth every penny of the asking price. If you were to put a gun to my head and ask me to find fault other than the seemingly wayward Wi-Fi reception, I'd be stuffed because I can't think of anything. It's thin, light, fast, handsome, solid, graced with one of the best screens on any phone and is built to a near weapons grade specification. ®
More Smartphone Reviews

Nokia
Lumia 800 [9]
RIM
BlackBerry
Torch 9860 [10]
Ten… Androids
to outshine
the iPhone 4S [11]
HTC
Titan [12]
Apple
iPhone 4S [13]