My home is bugged ... with temp sensors to save me cash
Monitoring benefits of insulation
iButton it: fitting a sensor array in your own home
In order to track the performance of the room, which now has extra insulation above and below too, I'm using four 15mm-diameter iButton Thermochron devices that automatically take up to 2,048 temperature samples at selectable intervals. I'm taking samples every 30 minutes for just over a month for "mission 1". The iButtons are small enough to be placed where the temperature is to be monitored, don't need any power or wires or clutter, and plug into a USB reader to download the readings.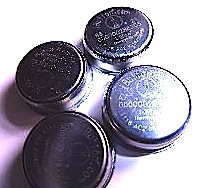 The four iButton sensors I'm using,
each about 15mm across
I have one button under the floor (which immediately showed up a huge draught coming in through the exterior wall below floor level), one in the room at about eye-level, one immediately above the plasterboard of the ceiling under the loft insulation, and one hanging in the loft above the insulation. I'm hoping to see how good my efforts are, aerogel and otherwise, at keeping the heat in the room and minimising demand from the radiators.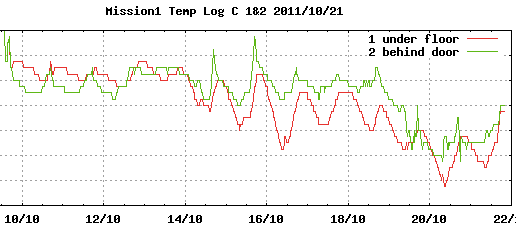 Initial readings from the first two buttons - one under the floor and another at about eye-height (Click to enlarge)
The drop in external temperature in mid-October is fairly evident from the graph from just the first two sensors, and the air leak under the floor letting sensor 1 get cold also stands out. That problem has now hopefully been obliterated with squirty foam; more readings will confirm or deny.
Stay tuned for more pretty graphs.
iMeasure, I manage
iMeasure.org.uk is a free site designed to help track your energy consumption at home. sMeasure.com is its SME (small business) counterpart, which I'm using to try to help my local school trim its energy use, too, and save some money in better ways.
All you have to do is enter your gas and electricity meter readings about once per week and the site will tell you how well you are doing and draw funky graphs, and do some quite sophisticated analysis. If you can measure, you can manage to save.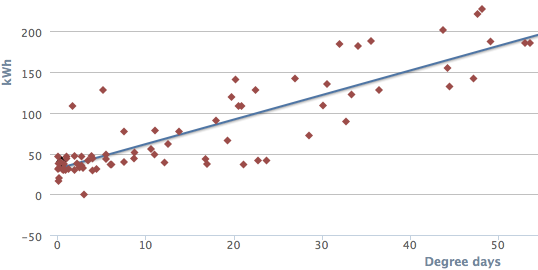 Performance-line heating chart (kWh/week vs HDD) (click to enlarge)
The clever thing to notice here is the normalisation against heating degree days, which allows you to work out how efficient you're being regardless of how cold the weather happens to be. Sign up, give it a whirl, and maybe join my "Zero" community, aiming for zero carbon footprint and heating bills, or as near as we can get. ®
Bootnotes
Sponsored: Fast data protection ROI?