JustPictures
Snap happy
Android App of the Week JustPictures has been my preferred app for managing photo galleries for nearly a year but a recent slew of upgrades - some cosmetic, some more fundamental - have elevated it to a level were it now deserves a strong recommendation.
The app's key attraction is its ability to pull all your photo libraries together no matter where they are stored. To this end, it connects not only with Picasa but also with Tumblr, SmugMug, Facebook, Windows Live SkyDrive, Flickr, Imgur and DeviantArt.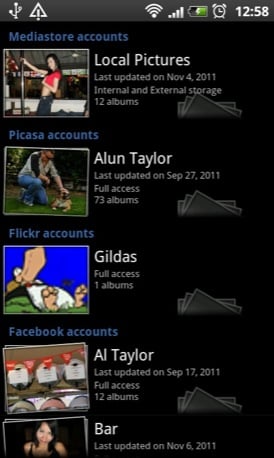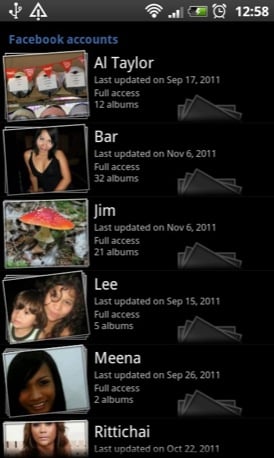 Add your accounts (left) and albums from Facebook friends (right)
Up until recently there was an issue with Photobucket's API but that seems to have been fixed giving a clean sweep of the popular online picture services.
As well as your own Facebook pictures you can also add friends' galleries which is handy for anyone who only really bothers with the 'book to look at new snaps from family and friends.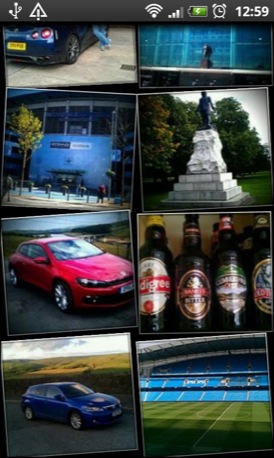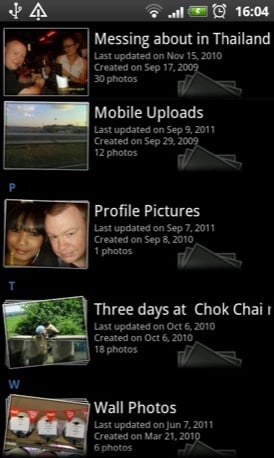 Corral your pictures
To help you keep track of new content, JustPictures can be set to show an alert in the notifications bar when new albums or images are added to selected accounts. Albums with new content then appear with a star alongside them in the gallery list.
Prying eyes can be kept away from sensitive content thanks to a facility that lets you hide albums - though not accounts. It works by simply pressing and holding any album thumbnail.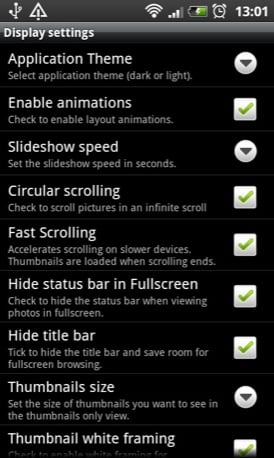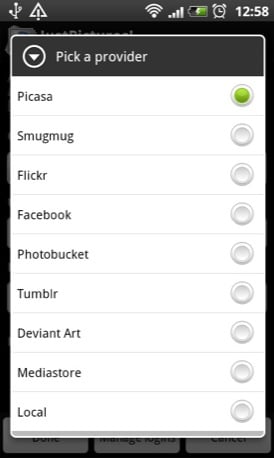 JustPictures caters for many options and account types
The design of the user interface is clean and functional but still attractive, and you can use the app to run a live wallpaper slideshow of your pictures on your homescreen
There are also a host of small but pleasing touches like the option to choose which image appears as the thumbnail for each account or album, and to either show or hide Exif data.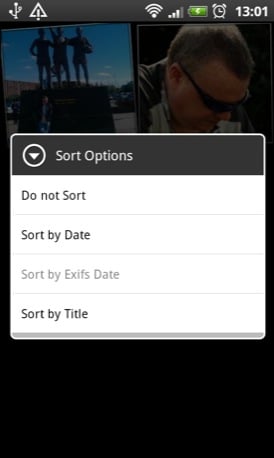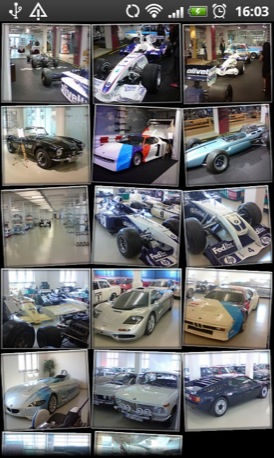 Sort your snaps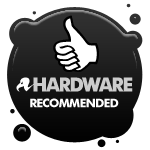 Gallery thumbnails can be set to show either two, three or four images across the screen and in the interests of visual diversity you can tilt them all at a slight angle and put a narrow white margin around each image.
To cap it all, recent updates have made JustPictures just about the fastest gallery app I've tried - feature helped by an option to set the maximum resolution of full-screen images - and is both free to use and free of adverts. ®
Size 5.7MB
App2SD Yes

We make our choice of the best Android smartphone and tablet downloads every Tuesday. If you think there's an app we should be considering, please let us know.
More Android App of the Week Winners

BeWeather
Android
voice assistant
shootout
K-9
My Council
Services
Viz
Profanisaurus
COMMENTS
"no matter where they are stored"
No matter where? How about FTP or WebDav or SSHFS, or IMAP extentions, etc.
There are some really sleek and sometimes innovative apps on Android (and probably iOS). But anything "networky" seems to only be able to work with some Cloud Service or another. How about a bit of support for some of those decades old open standards?
More and more people don't want to hand everything over to data mining / profiling /selling companies. Your own server's cheep .... and fun too!
no video support?
Nice but doesn't handle video at all and it mounted my sdcard folders multiple times. Looks like stock Gallery isn't dead quite yet. Hopefully they can get video added with a bit of prompting.
Absolutely anywhere?
Even when stored on my home PC on an encrypted external drive, as I've no desire to share my personal (and very boring) moments with world + dog?
Using this myself
If you have photos all over the cloud this is an ideal way of accessing all your accounts from the one app. You can also add friends accounts in Windows Live, Flickr and Picasa as well as Facebook. Strongly recommended.
What's the product?
When an app is "both free to use and free of adverts" you have to ask yourself what the people who made this app are selling? More often than not, if you can't identify the product then you or your data is the product.
Of course, they may just be benevolent developers doing it to enrich people's lives, such developers do exist. Then again, the app does allow them to gain usernames and passwords to all your photo accounts, and let's be realistic, a lot of people use just one or two different passwords for all their online/computer accounts so that data certainly has value to the wrong sort of people.